Emily + Ian. Rustic, romantic pink and green wedding day with Childish Gambino theme | Alternative wedding venue Wales
In our time as an alternative wedding venue in Wales, we've seen a lot of brilliant wedding themes – but Emily and Ian might take the biscuit (or welsh cake, if you're feeling that way inclined). That's because their day was inspired by pink, green…and Childish Gambino. Yep, he of Community, Atlanta, and Redbone fame. We love a couple who do things differently here at The Giraffe Shed, so as soon as Emily and Ian enquired and professed their Glover love, we knew we wanted to host them. They not only talked the talk but walked the walk too, with an alternative romantic, rustic wedding day that was one huge celebration – and which you can feast your eyes on below!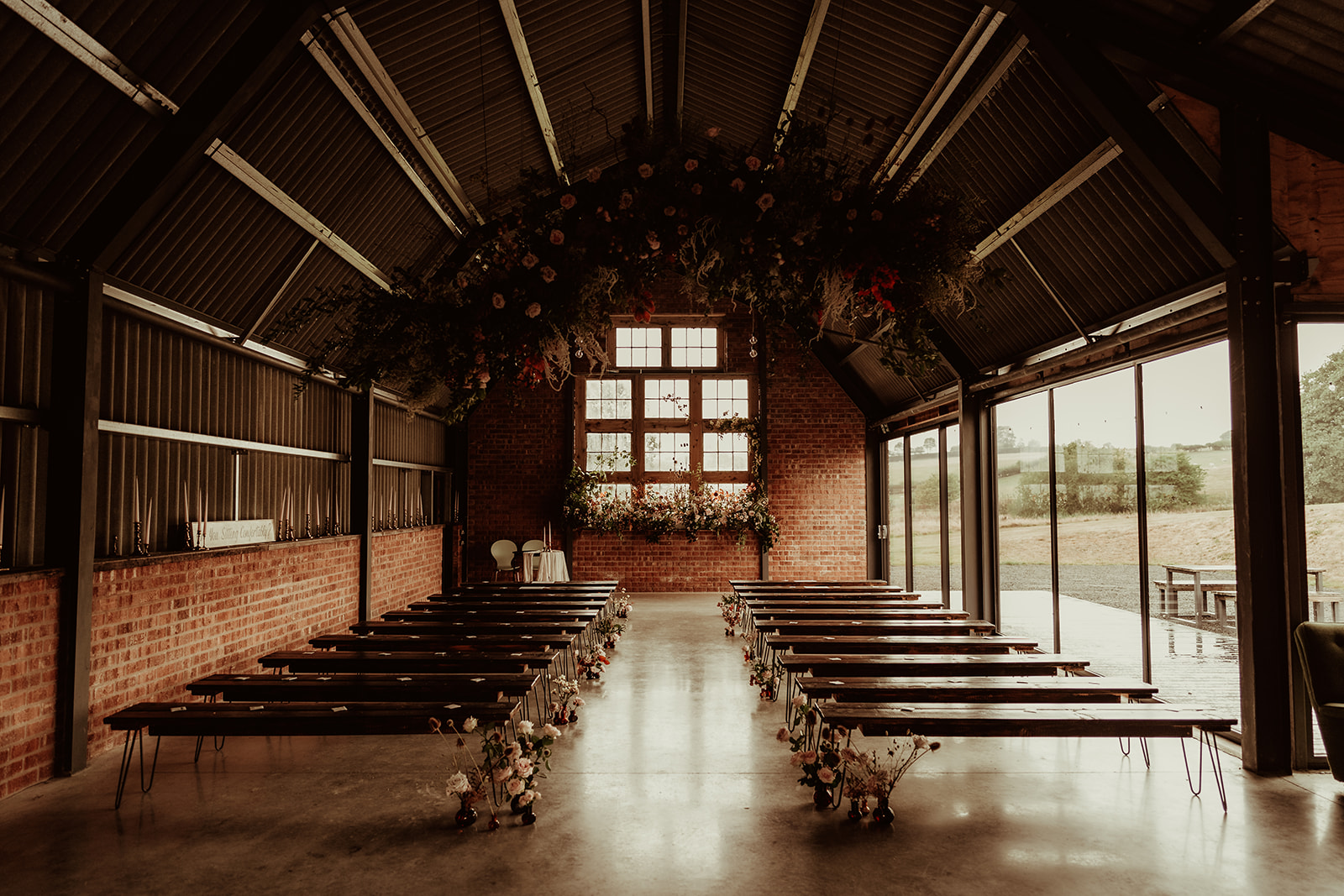 One totally unique wedding theme
Firstly, the question on everyone's lips: why Childish Gambino? "We first went to see Childish Gambino in 2018 and – despite our significantly different music tastes(!) – had the most incredible time," Emily explains. "His songs have been part of some core memories for us, and it was really important to have words with meaning on our day. We knew we wanted to have music as a big part of our wedding, and including his songs as our first dance/exit song felt really special." They brought this theme to life with different decor items emblazoned with the lyrics to their first dance song "Valentine in the Summer". They already had a Alice Gabb banner with the words on which they brought from home, and used a red heart-shaped Valentine In The Summer vinyl record for their table name. (Their table plan consisted of more vinyl records, which went perfectly with our disco ball wall fitting that it stood in front of.) Huge congratulations are due for Emily and Ian now too, as "coincidentally I am now pregnant…and we're expecting our very own valentine in the summer!" Real commitment to the theme there, guys!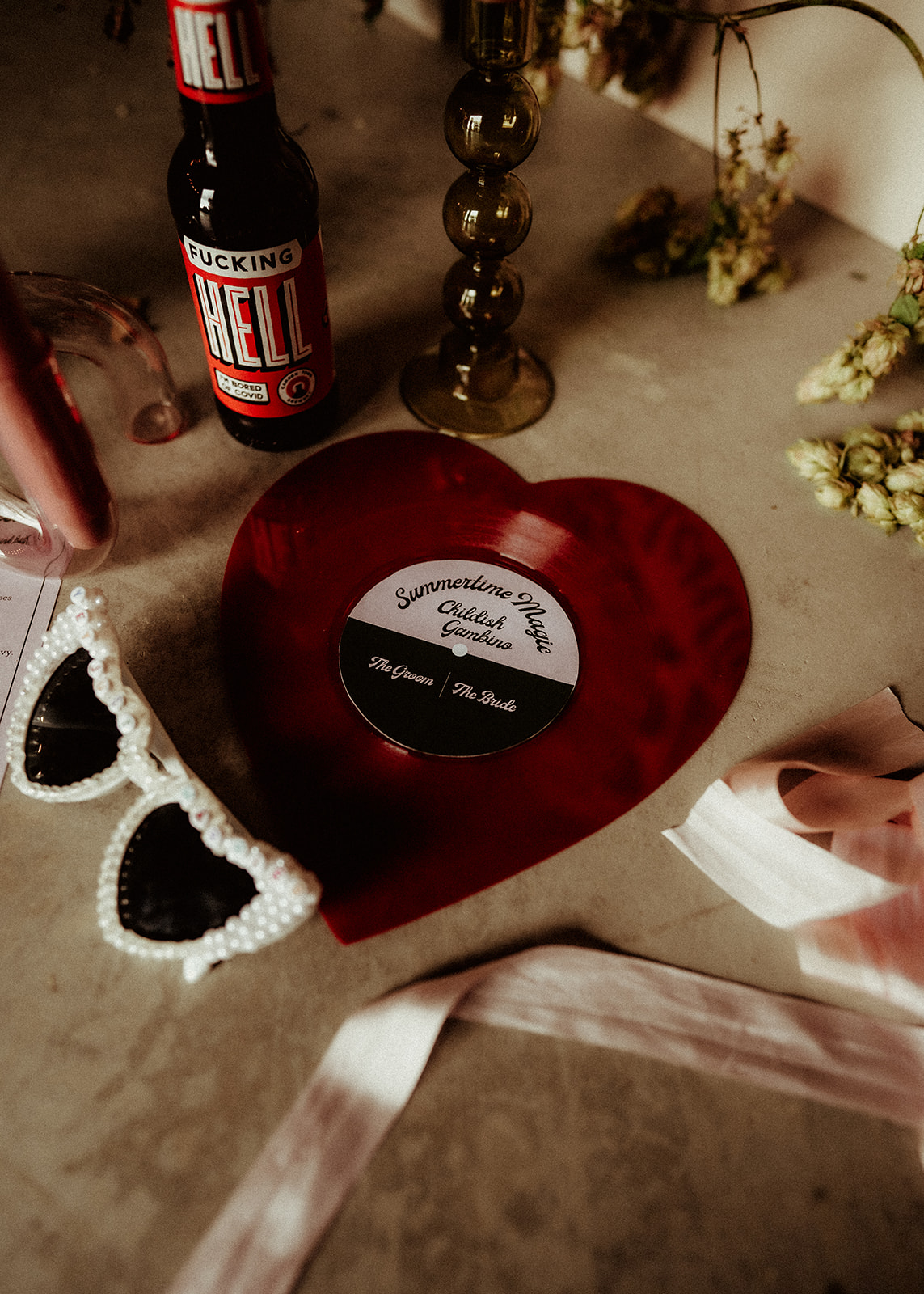 Plus incredible decor and styling
Other than Childish Gambino, Emily and Ian didn't start out with any colour themes or ideas. "Neither of us had considered marriage before, so when we first decided to get married, we didn't know where to start! This actually worked out well, as we had to start from scratch." They ended up choosing a gorgeous colour palette of pink and green that spoke to lots of different things. "I love bold colours, and bringing in the final colours from summer and entering into autumn" – their wedding was the start of September – "meant that we could also combine the seasons and my surname, Green. Then Ian (who's a graphic designer) had a colour palette for invitations before we had to commit to the décor and styling." On the day, this came to life in delicious dusky rose and sage tones. They enlisted Pheasant Botanica to create a wild and rambling floral arrangement around the window frame which served as the backdrop to their ceremony, and a stunning ceiling arrangement that hung over the guests. As they also used The Giraffe Shed for the reception, these gorgeous arrangements provided the decor for that too. For the wedding breakfast, each trestle table featured a mismatched array of pink and green taper candles and vases full of more of Pheasant Botanica's romantic blooms. Emily had a vision of a banquet style table, and used charger plates and gold cutlery to make the tables look elevated and luxe, continuing the overall vibe of rustic but romantic. A word of warning, though: "I'm not sure I'll be cutting out 100 squares of fabric and folding them again in a hurry though…although they did look banging!" (They really did!) As massive foodies, Emily and Ian wanted their food to be the crème de la crème, if you pardon the pun…"We hit the jackpot with Jones' Pizza Company, who catered the whole day. Not only was the food INCREDIBLE, but they are also Welsh speakers – something else that I wanted as part of the day. I didn't want to have a traditional cake cutting 'ceremony' and both of us love doughnuts, so we were massively chuffed when Cardiff Dough and Co said that they were more than happy to cater the evening and that we would be their first wedding!"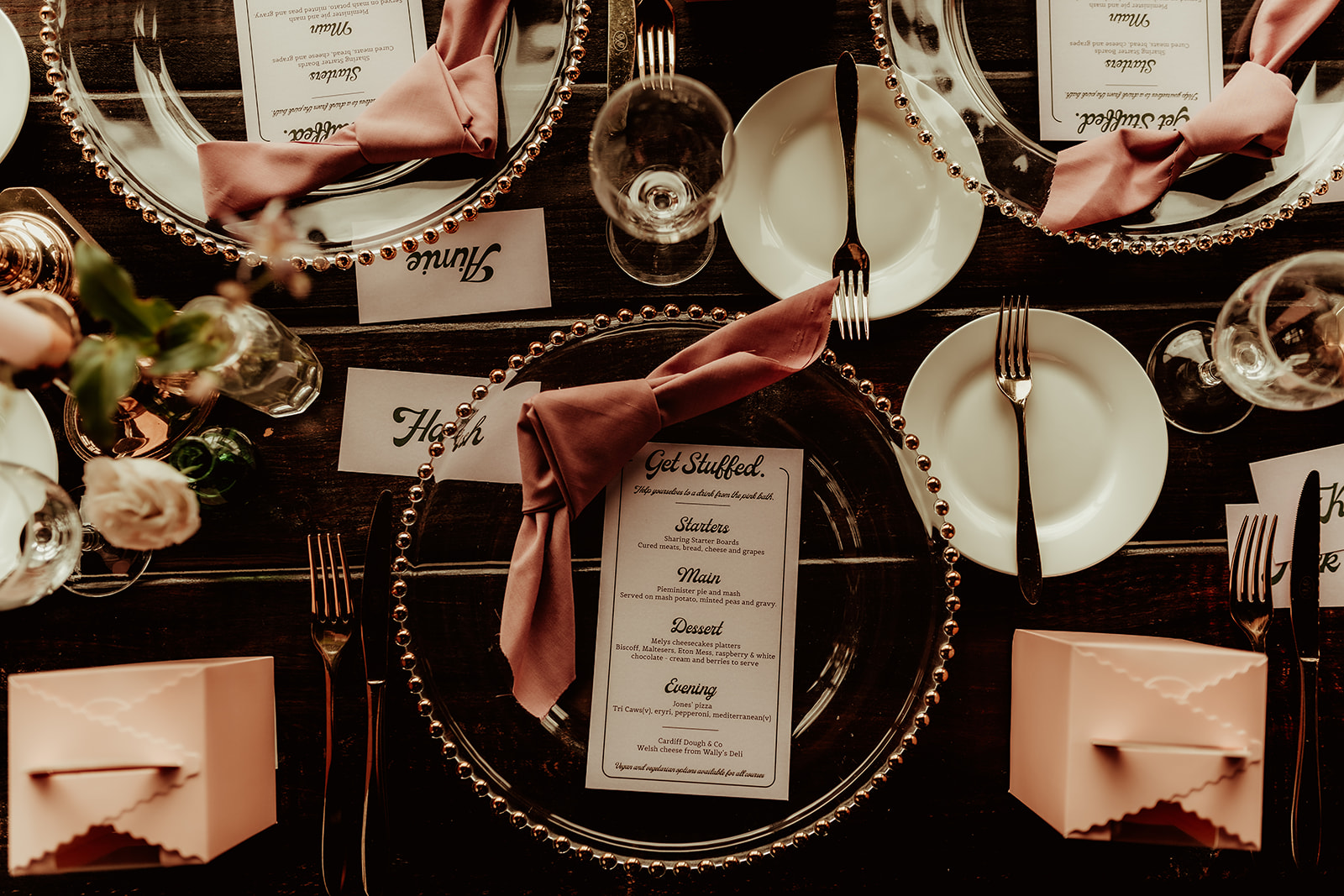 And a whole lot of energy
In addition to exceptional decor and enviable style, Emily, Ian and their guests brought a whole load of incredible energy. For example, Emily accessorised her Laura May Bridal dress with Fuck The Tories earrings and Just Married beaded sunglasses, and they all took their group photos together in our glorious pink bath. The newlyweds even had an impromptu drunken photoshoot in the pitch black Black Box with photographer Hash later in the evening! "The evening didn't have a specific set timing for anything happening (apart from the band) and I love that." Emily explains. "It didn't feel like everybody had to be in a set area at a set time, and everyone could pick up food from the pizza van outside and doughnuts as and when they wanted."
At our alternative wedding venue in Wales
We were absolutely honoured to host Emily and Ian's day at The Giraffe Shed, and are so glad that we came up on Emily's 3am insomniac instagram scroll (her words, not ours.) "When I came across The Giraffe Shed I realised that I wanted to have a down to earth venue with an alternative, friendly feel." Emily explains. "I stalked their Instagram page, and sent a desperate e-mail asking if there were any dates available for the following year. It was the only venue we viewed and we fell in love immediately. Throughout all of the stages, Han was around for any questions and gave such valuable advice from a wedding and photographer perspective – especially about timings. Nothing felt prescribed or like we were on a conveyor belt, and we genuinely feel like we could drop in and say hi. Without them, our wedding would not have been the same!" (Just for future reference…you are always welcome to drop in and say hi!) And you, dear reader, are too. If you're looking for an alternative wedding venue in Wales with a down-to-earth vibe and a world-is-your-oyster kind of approach, we'd absolutely love to chat. Get in touch here – we'd love to hear from you!
"Honestly though, we couldn't have had a day like we did without Han and Neil."
—Emily + Ian