Carrie and Sam's pink and red wedding day – The Giraffe Shed
Where do we even begin with the dreamboat day that was Carrie and Sam's pink and red wedding bonanza? We are not worthy. If you've followed Carrie on instagram or the interwebs, you'll know that she blends effortless, cool gal style with relatable mama- and sister- hood (things we could all do with more of, always). Her and Sam's wedding was exactly the same blend: unfiltered, authentic feelings and friendship, celebrated in kickass, to-die-for style. Plus, she used the opportunity to showcase and spotlight Welsh suppliers and craftsmanship – real queen shit, if you ask us. Over on her instagram, Carrie said "Truly, all I had in mind for the day was some uncomplicated, feel-good silliness and to provide a decent excuse for everyone to switch off together for a min."  We were so excited to be able to host their pink and red wedding day of dreams, and are thrilled all over again to be able to share it with you on the blog today. Let's cast our minds back to that roasting hot day…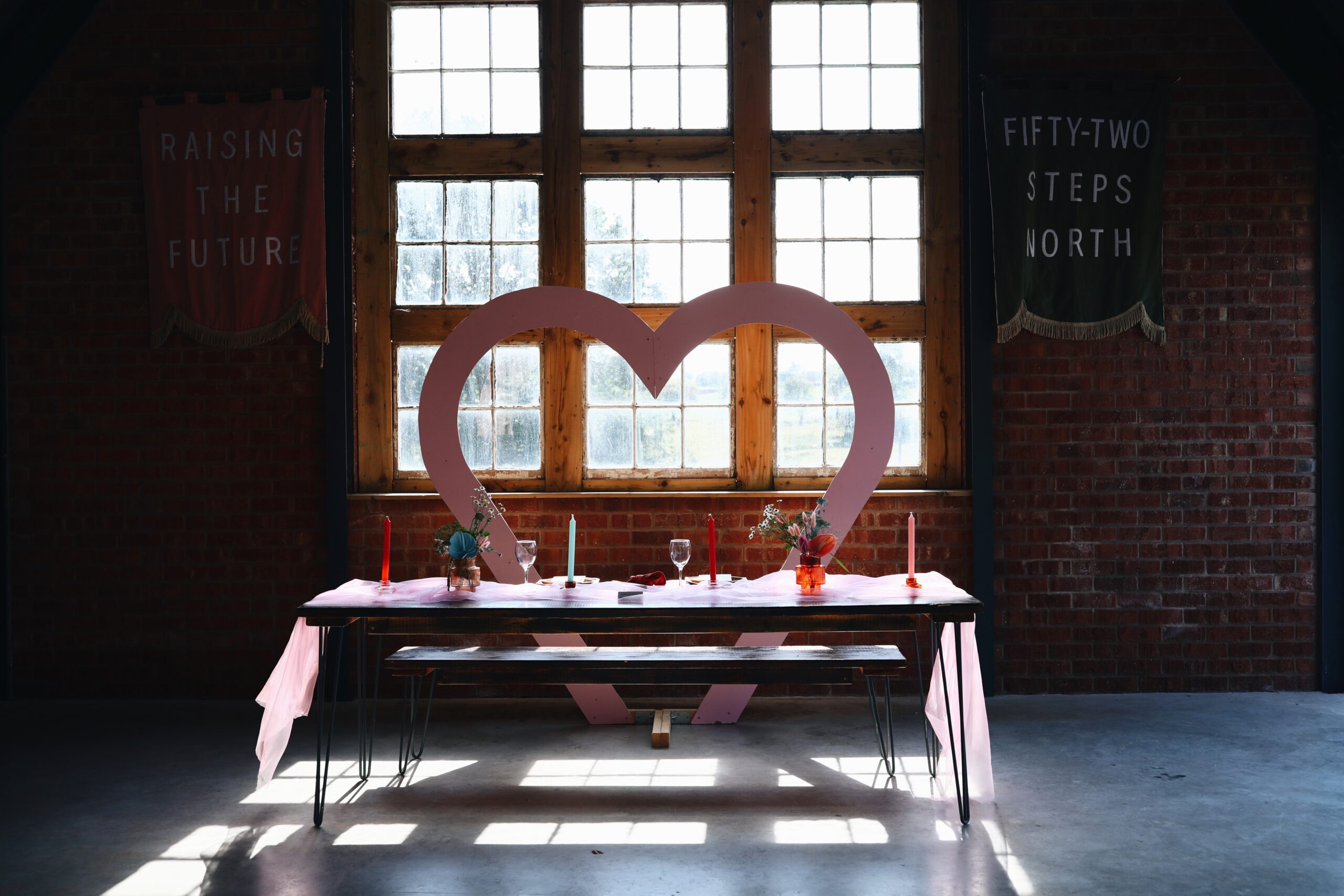 Let's first dive in on the delicious colour palette for the day. Carrie and Sam opted for a pink and red wedding theme. Of course, our venue is part pink, but they brought it to life in so many other ways throughout the day too…
---
Flowers
Doom and Bloom created Carrie and Sam's wedding flowers, using orchids and juicy roses in different shades of pink and red, as well as some pink bunny tails, to create the bouquets for Carrie and her flowergirls. The result was a bold, architectural delight. Then for the table flowers, she added in some light blue orchids, greenery, and yellow daisies too, to add more depth and match the decor around the room.  
Outfits
Carrie chose a design from our pals at E and W Couture, a custom mash-up of their Bronwen and Madison dresses (they named it Madwen, which means fortunate in Welsh!) Inspired by Princess Diana, it featured a super long train and a ruffle top and full skirt. Sam wore black trousers and a waistcoat over a swirled vintage shirt from Harley's Vintage Boutique in Llangollen, which he wore with box fresh white Nike Air Force 1s.
Decor
Carrie and Sam's pink and red wedding theme continued in the decor, accented by hints of green and light blue. Firstly, talented Sam created a huge pink heart frame to act as their ceremony backdrop. As described by Carrie: "One of my best friends led the ceremony wearing a custom made (by her own hands) hat with a Tom Jones embellished medallion – another nod to Wales – all happening while a bubble machine blew bubbles through our pink giant heart made by Sam. Because, why not?" They also used swathes of fabric to make the space feel like a cosy kitsch fairytale. Fluffy pom pom clouds and pink and red fabric hung in boughs from the ceiling, while pink fabric pooled on the floor, studded by vases filled with more divine Doom and Bloom flowers. Pink table runners also featured on the tables for the reception, studded with coloured taper candles and scattered with pink horseshoes, whilst each place setting had a orange knotted napkin and a menu illustrated in pink, red, and light blue. On the ceremony side wall of The Shed hung two Alice Gabb banners made from vintage velvets, reading "Raising The Future" and "Fifty Two Steps North", while hanging from the ceiling on the other end was a bright red heart-shaped piñata. In the Black Box, Carrie and Sam had hung metallic balloons spelling out "We all know about Sam Skirrow", which was the unofficial mantra of their wedding (it had also been embroidered on Carrie's veil for her hen do!)
Cake
And can we all just take a moment, please, for the pink and red wedding cake, created by Autumn from Plumb and Rabbitts! Look at the ruffles! The piping! The super cute icing hearts!
Celebrating Wales
Another factor that inspired Carrie and Sam's wedding day – and another reason we love them both so much – was a focus on celebrating Wales. "I wanted the day to celebrate Welsh suppliers as I'm Welsh and had recently moved back to Wales," Carrie explains. Pretty much every supplier was Welsh. And, what's more Welsh than Gavin + Stacey? We started the evening party (which had total 90s school Disco vibes) with me and Sam dressed as Nessa + Bryn doing our very own rendition of Islands in the Stream – Yes my wig was on back to front, yes I was sloshed, and YES, I loved it. "Having lots of Welsh booze sourced by The Giraffe Shed was ace too," (why thank you!) "food by a local chippy and of course, The Costa Sisters being there to film and photograph the day was perfect. Having these little nods to my homeland was important to us!"