Abbie + James – Modern vintage wedding with meadow florals and summer colours, inspired by our venue!
Modern vintage wedding inspiration
But first up, if you're thinking wait what is a modern vintage wedding? How can it be both modern and vintage at the same time? Let us explain. Abbie and James' inspiration was "antique style with a modern feel" which (squeal) "stemmed from the shed itself. We love the elements of old and new: where the old shed once stood, a new one was created, using old and modern materials. And we have a love for DIY and antique shops, so a lot of it came from that too." (It's just as well our doors are floor-to-ceiling, isn't it…or our heads wouldn't fit through them!) All of this beauty caught epically as always by the wonderful Mark Horton.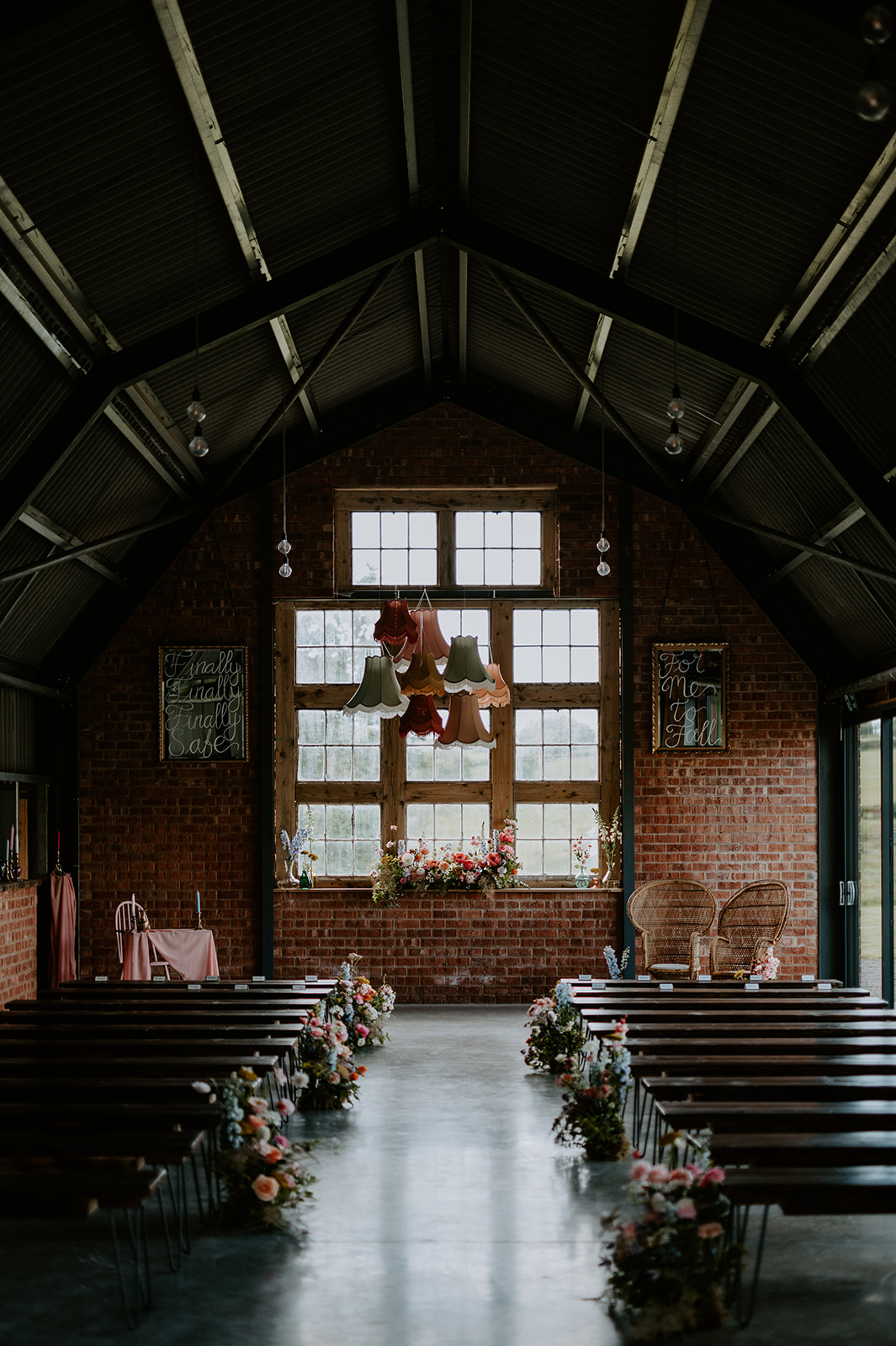 Modern vintage wedding decor
Their decor was a careful curation of mostly second hand items, picked up from charity shops, antique shops, and Facebook marketplace. In particular handlettered mirror signs in ornate gold frames featured through the day, including one in the ceremony space that read "Finally finally finally safe", and a selfie mirror. "People loved our selfie mirror, taking photos in it all day and writing special quotes, well wishes and lovely messages to us on it with coloured pens. It takes pride of place in our living room today for everyone to read." Abbie and James got married beneath an assortment of vintage tasselled lampshades hung above the ceremony space in front of our big reclaimed windows. This was such a good idea as it made such good use of the vast, tall ceiling – a space so often neglected but so impactful when it comes to styling!
Meadowlike florals bringing the outside in
But that doesn't mean there was nothing to feast your eyes on at ground or eye level. On the contrary! They'd worked with the brilliant Emma Cox on their flowers, which sprung, meadow-like, from the floor at the end of the aisles, and from the windowsill at the top of the aisle. "Our inspiration was our hobbies and interests and what we like to do together as a couple. We both love being outdoors with nature, so we wanted to introduce nature into the shed like the outside (but that speaks for itself!). To bring this to life we had Emma create her magic with coloured wildflowers and green fluffy foliage." Emma used bright pinks, lilacs and light blues to really bring the summer's day to life inside the venue, as well as in Abbie and her bridesmaids' bouquets.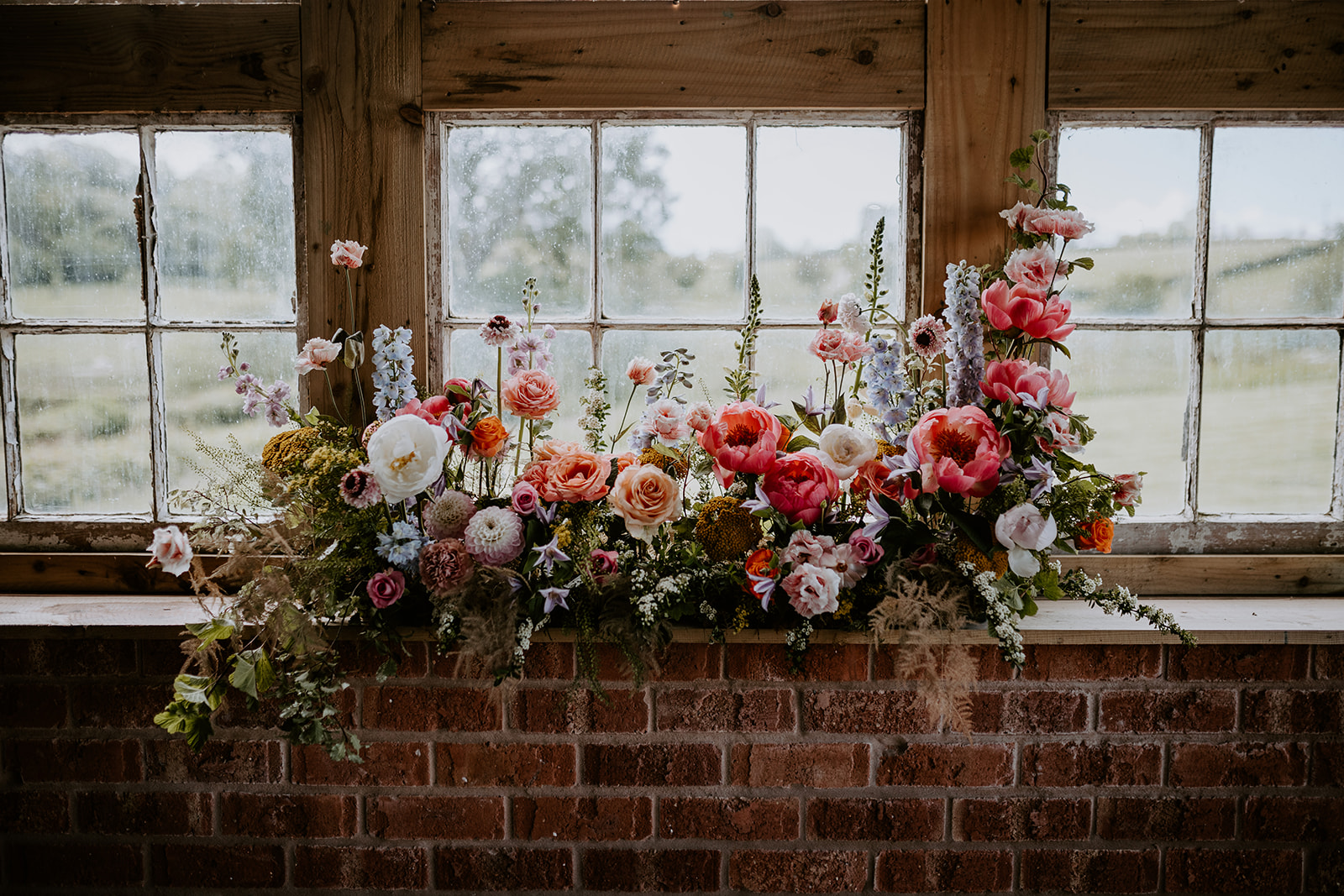 Summer colour palette
This summer-y colour palette continued throughout Abbie and James' modern vintage wedding day. "We had pink chiffon table runners with all the coloured glass and candles running down the centre of the tables, and teal plates, agate place names and gold cutlery tying it all together. Even the grazing platters on the table to share had edible flowers on them, which made them look so pretty and tied in with the decor well. "Our dessert table was full with mini desserts for people to eat as they pleased which was also presented on coloured glass serving plates and platters." (Also, we have to give an honourable mention to Abbie and James' food before the main meal, too, which really appealed to the 'vintage' part of their modern vintage wedding theme: they hung old school bar snacks up at the Black Box bar during the drinks reception, including Scampi Fries, Fish and Chip Crisps, Salt 'n' Shake, and Haribo. "They were gone within seconds!") Abbie and James had worked tirelessly on bringing this theme to life, so it was a total honour to be able to make it happen. Even more so when we saw Abbie's reaction: "Whilst the tables were being set up ready for food, I had a little moment to myself and cried literal happy tears! It was my vision coming to life and it was a memory I'll never forget." They also matched these summer-y colours in their outfits. "I had a fitted dress with large, lacy fabric," Abbie recalls, whilst "James had a sagey green textured suit with a pink floral tie. Our groomsmen wore the same with a hint of copper, and the bridesmaids' coloured dresses all complimented the colours in the flower bouquets. Our flower girls had matching green ruffled dresses, and gold shoes to tie in with all the brass of the mirrors and the candlesticks too."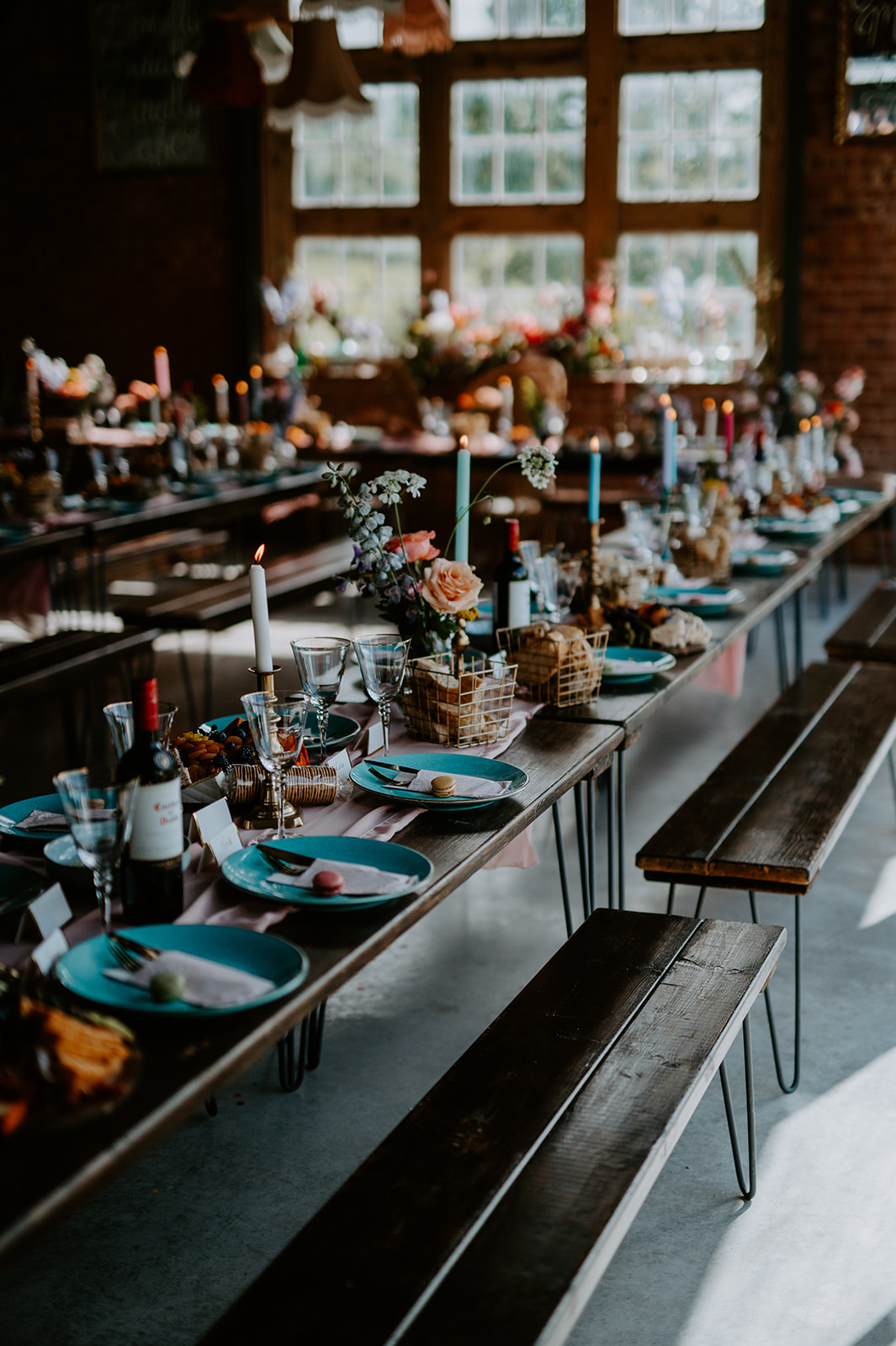 Girls That Mix
Music was another huge part of Abbie and James' modern vintage wedding day. "We both love music and we love to host parties, so we were in our element making our playlist adding songs and sending each other links to new music we had both heard ready to add it. We played that music all day, even throughout the speeches and sit down meal. The songs kept the energy high throughout!" In addition to the playlist, they had entertainment in the form of Girls That Mix. "Once the food was done, that's when the party started. We kicked it off with some music for everyone, even the oldies! Our first dance was to Beautiful Stranger by Halsey, and the confetti cannons went offffff, but it was Girls That Mix that truly stole the show. They played remixes of old and classic dance songs, and the sax and bongo girls killed it. Again, I had a moment of crying happy tears, seeing all my loved ones around us having the best time ever!"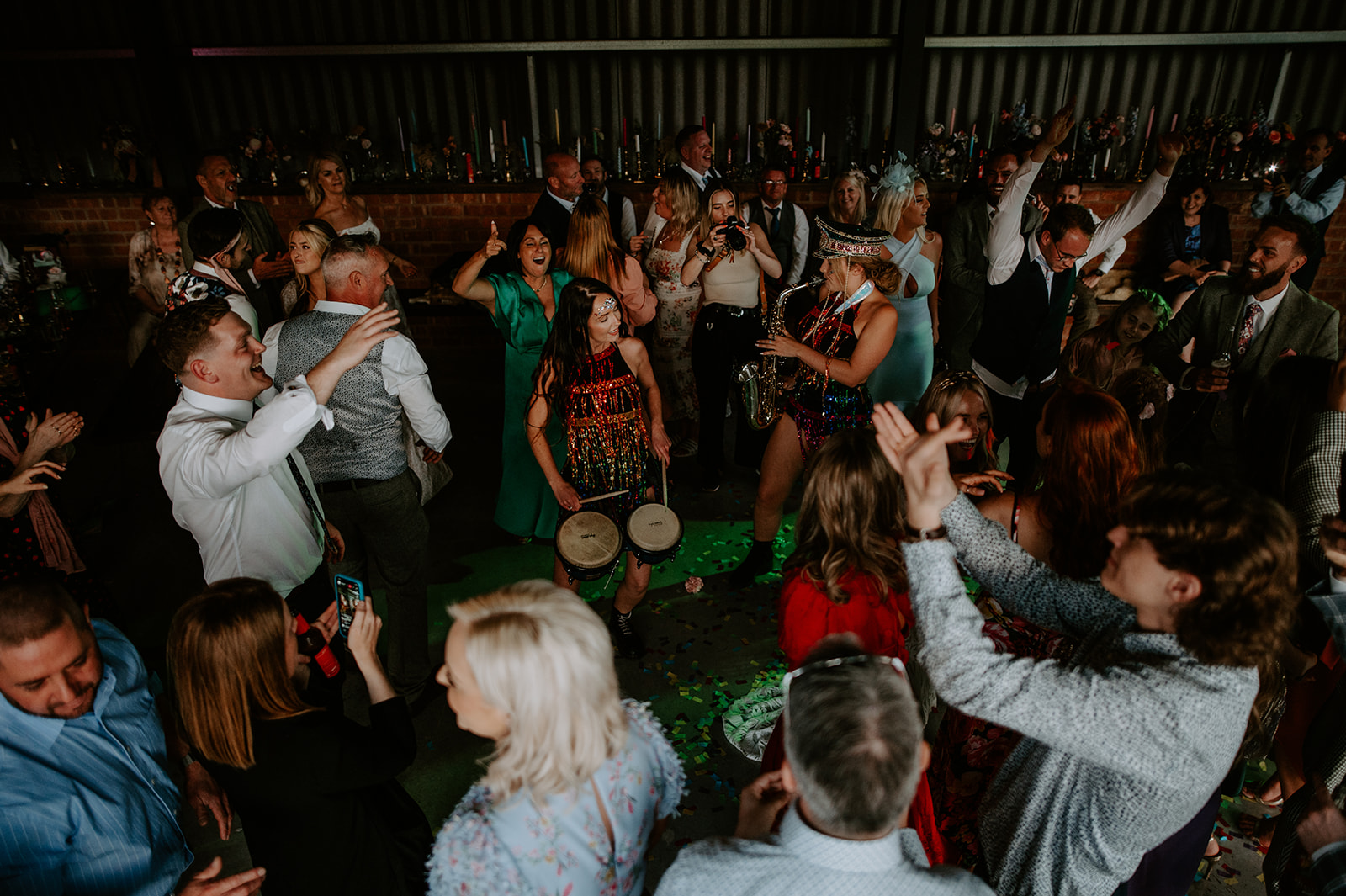 Alternative wedding venue in Wales
Abbie, James – thank you for choosing us as the perfect place for your modern vintage wedding day (especially as you came to see us just out of a lockdown, with so many things up in the air!) It was an honour to have you! And if you're planning your own modern vintage wedding in Wales and are looking for a venue that literally embodies it, we'd love to hear from you – you can get in touch here. We can't wait! P.s. if you love Abbie and James' styling – you can book Abbie as your wedding stylist! Check her out at Abbie Leigh Events
"Dream wedding venue for us!"
—Abbie + James