Emma + Nathan – Modern, minimalist wedding styling for a sunny industrial farm wedding
Emma and Nathan's wedding was 3 years in the making thanks to You-Know-What, so it was even sweeter when it finally rolled around. What they wanted most from their wedding day was "One big relaxed party! And a celebration of our 10 years together", and that they certainly got. And what do the rest of us get? Buckets of minimalist wedding inspiration, as well as the warm fuzzies. A win-win, if you ask us…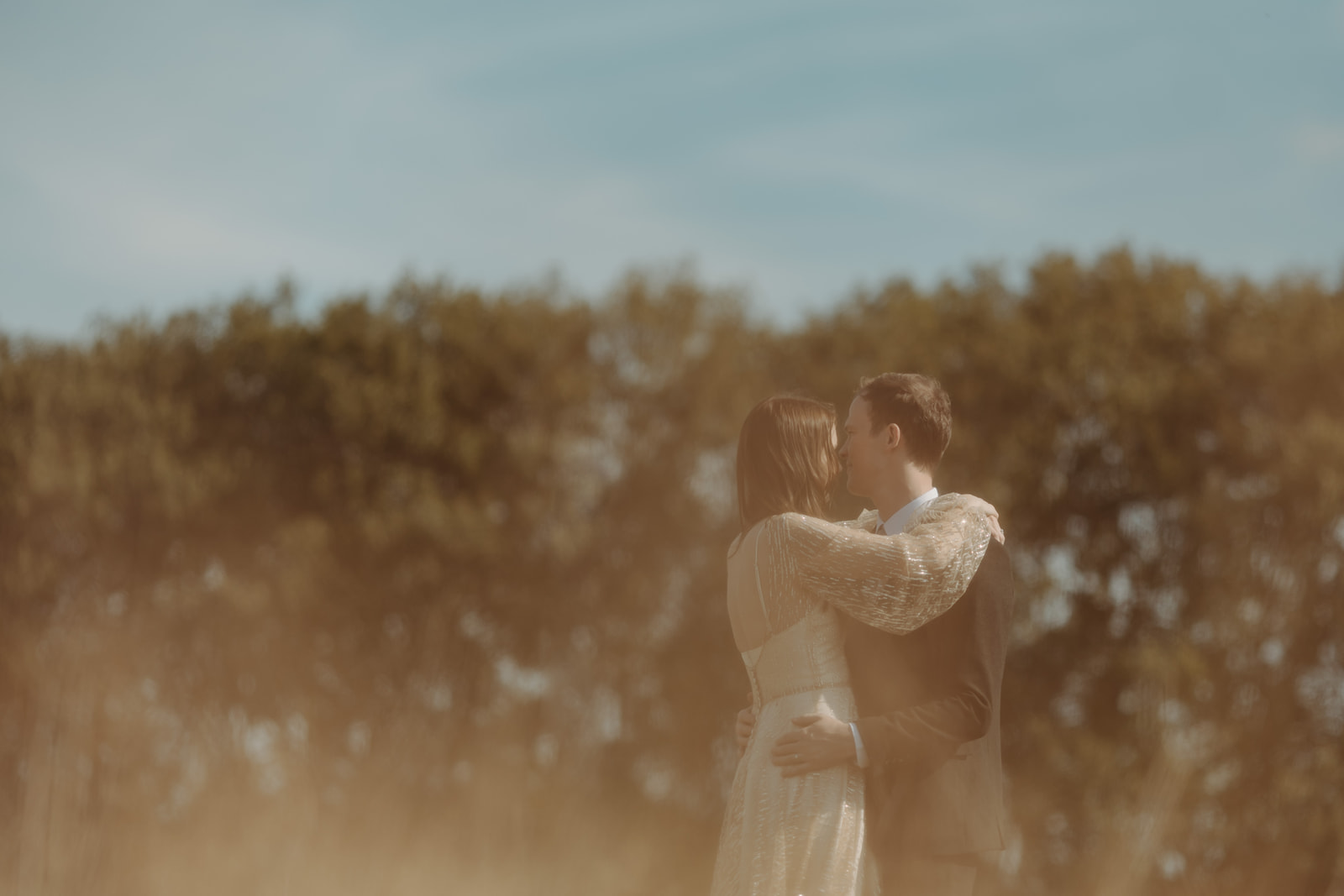 ---
Minimalist wedding inspiration
When we asked Emma and Nathan what their main wedding inspiration is, we weren't prepared for just how flattering the answer would be! "The shed and the farm were our main inspo." they explained. "We loved the architecture of the building and the natural light so much, and just really wanted to show that off. Minimal fuss, wild flowers and some damn good food was all we wanted!" (Quick interlude from us here: we're so pleased that The Giraffe Shed feels like this for other people, not just us. When we were building it, we wanted to create a venue that was both a blank canvas and a space with its own quirky personality, so that you could make it your own. And we love that couples now do that – for another interpretation of the barn, check out Abbie and James' wedding here. Ok, back to the gorgeous Emma and Nathan:) "We kept the whole day very relaxed and organic, and invited as many members of our family and friends to ensure we filled the shed with love, party vibes and dancing!"
An elegant ceremony
"The ceremony was purposely scheduled early so that we could soak up every moment of our big day," Emma and Nathan explain. Their minimalist wedding ceremony was beautiful in its simplicity: at the top of the aisle stood an industrial copper arch, asymmetrically adorned with fluffy foliage and wildflowers, and anchored with two meadow-like floral springs at the bottom. Small jars of flowers also sat at the end of each row, lining the aisle which Emma and her bridesmaids would walk down. After the ceremony, guests gathered outside for a joyous confetti shot, before enjoying our signature bathtub full of drinks in the summer sun. During the drinks reception, Emma and Nathan stole away with their brilliant photographer Luke Bell to take some portraits around the grounds, and with their gorgeous baby girl.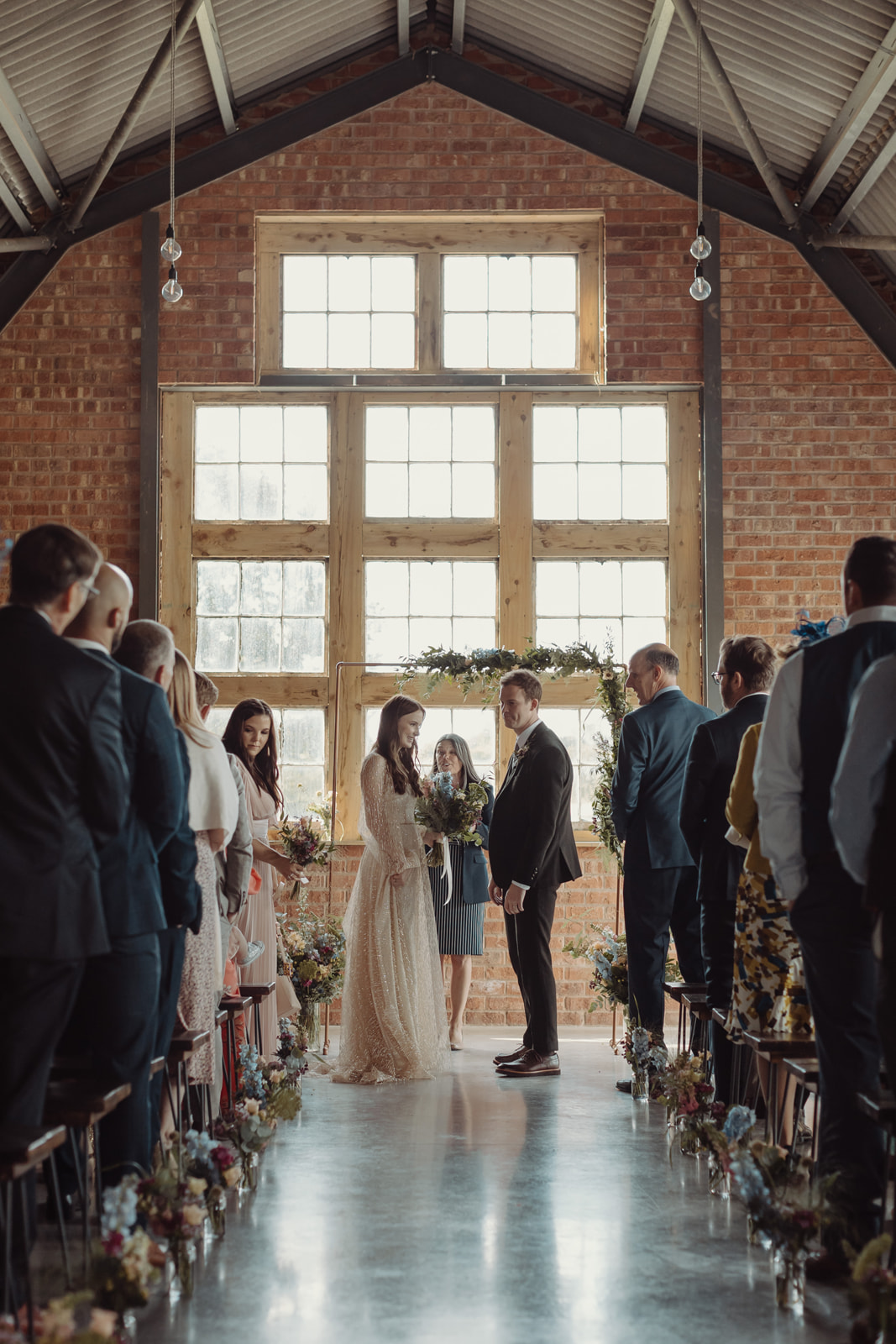 A relaxed reception
Continuing the minimalist wedding theme, Emma and Nathan's reception featured linen table runners and cream candles in grey candle holders interspersed among the jars of vibrant pastel flowers. They also gifted their guests a miniature bottle of port each, as favours. This made it the perfect setting for their meal. "Non-traditional food was our aim so we booked Let's Go Street Food to supply food to our guests. We had an eclectic mix of food (fish and chips, mexican and steak sandwiches). Dessert was kept simple with lots of sweets to pick at. Our main aim with food was to keep everyone well fed throughout the day so we brought in lots of snacks to fuel the dancing!" They also had not one, not two, but three cakes, which they displayed atop our low-top pale pink locker with an elegant "sweet treats" sign. One of these was a one-tier chocolate cake, one was a two-tier semi-naked chocolate cake decorated with Colin and Connie The Caterpillars, as well as minis, and one was a three-tier semi-naked sponge cake adorned with Percy Pigs!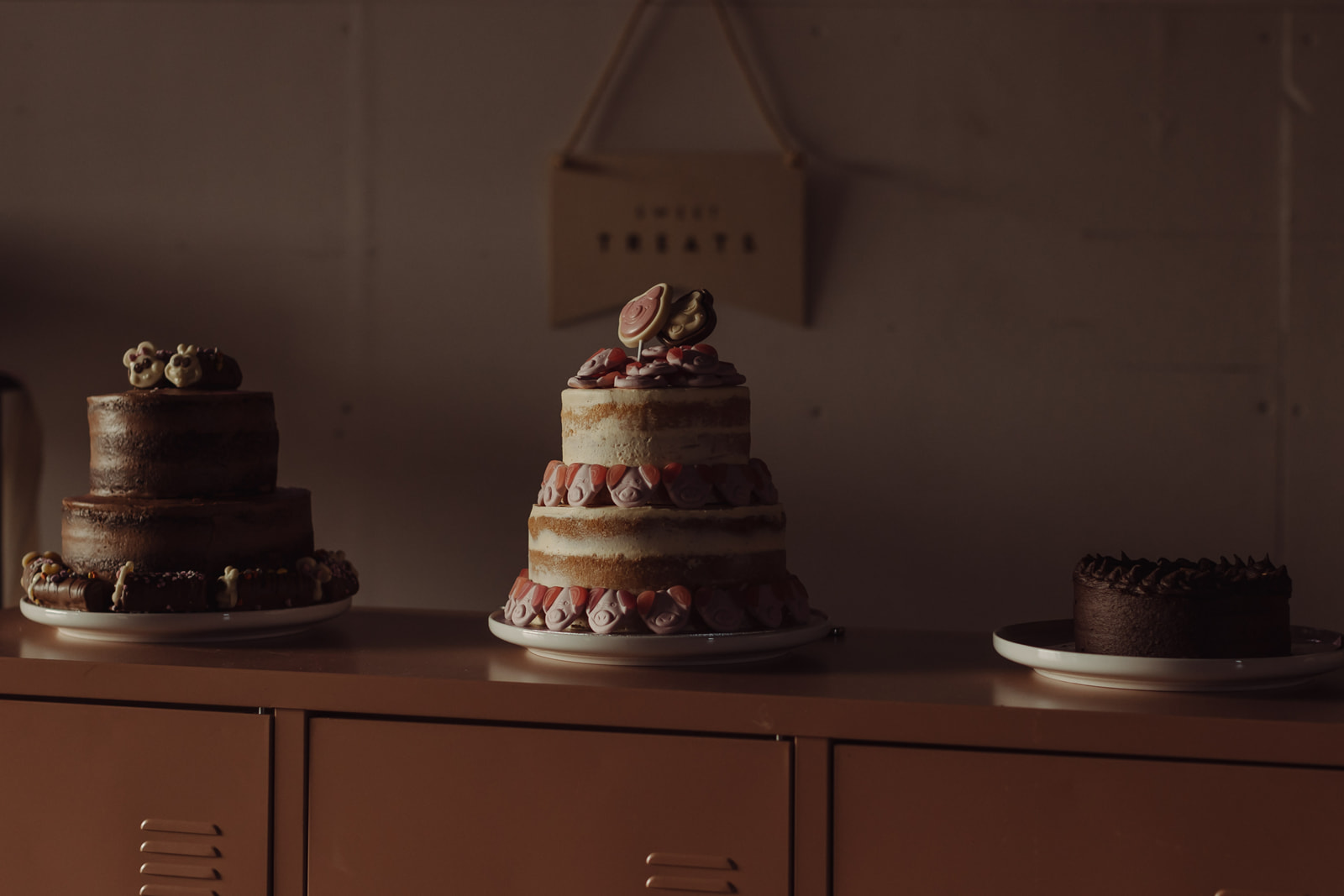 The best of the best
"We wanted to look our best and splashed out on our minimalist wedding outfits, photographer and videographer to ensure we had lasting memories of the day." Emma and Nathan remember. They definitely succeeded: Emma wore a dress made from a totally unique E&W Couture dress, made from billowing fabric shot through with gold metallic thread which flashed beautifully in the light. (Bonus points too, because E&W Couture design and make their dresses locally in Cardiff!). Nathan looked super sharp in a tailored black suit, and Luke Bell and M Davis captured the day magnificently too, as you can see from the photos.
More than a wedding venue
(Sing with us now…more than a venue to meeeee.) As part and parcel of booking The Giraffe Shed, you get us – Hannah and Neilo – on hand at all times, to do whatever we can to make your big day amazing. But you don't have ot take our word for it – here's what Emma had to say about working with us and having their minimalist wedding at The Giraffe Shed… "Hannah was the rock that held us together for over two years to get us to the big day. We initially booked the venue back in October 2019 then COVID hit… After that life took a different turn and we postponed again due to the birth of our baby. We finally got it altogether and headed off to the shed in September 2022 to get married! Hannah and Neil felt like old friends that just KNEW us already. They gave us direction where we needed it and stepped back when we had our own ideas. They're not just venue owners, they really do provide so much more. I knew that if things were getting tricky with planning or I had just forgotten to order something then Hannah would be there to give me a hand. On the day itself, Hannah and Neil ran around ensuring we had the very best day and kept it altogether. Hannah kept timings running smooth and kept us calm when the food supplier broke down. I am sure we'll keep in touch with Hannah and Neil 🙂 The Giraffe Shed really is a special place that will hold a place in our hearts forever. I really cannot wait to go back and visit this year!" Emma, Nathan, we can't wait to have you – get ready for a big squeeze!
"The Giraffe Shed really is a special place that will hold a place in our hearts forever."
—Emma + Nathan