Kate + Stu Alternative barn wedding in Wales with a bouncy castle and Tenacious D – The Giraffe Shed
Kate and Stu's whole wedding weekend was full to the BRIM: full of activity, full of laughter, full of joy. The fun was non-stop, from the Friday night welcome party to the Sunday goodbyes – and, of course, including their huge wedding celebration, which took place on the Saturday!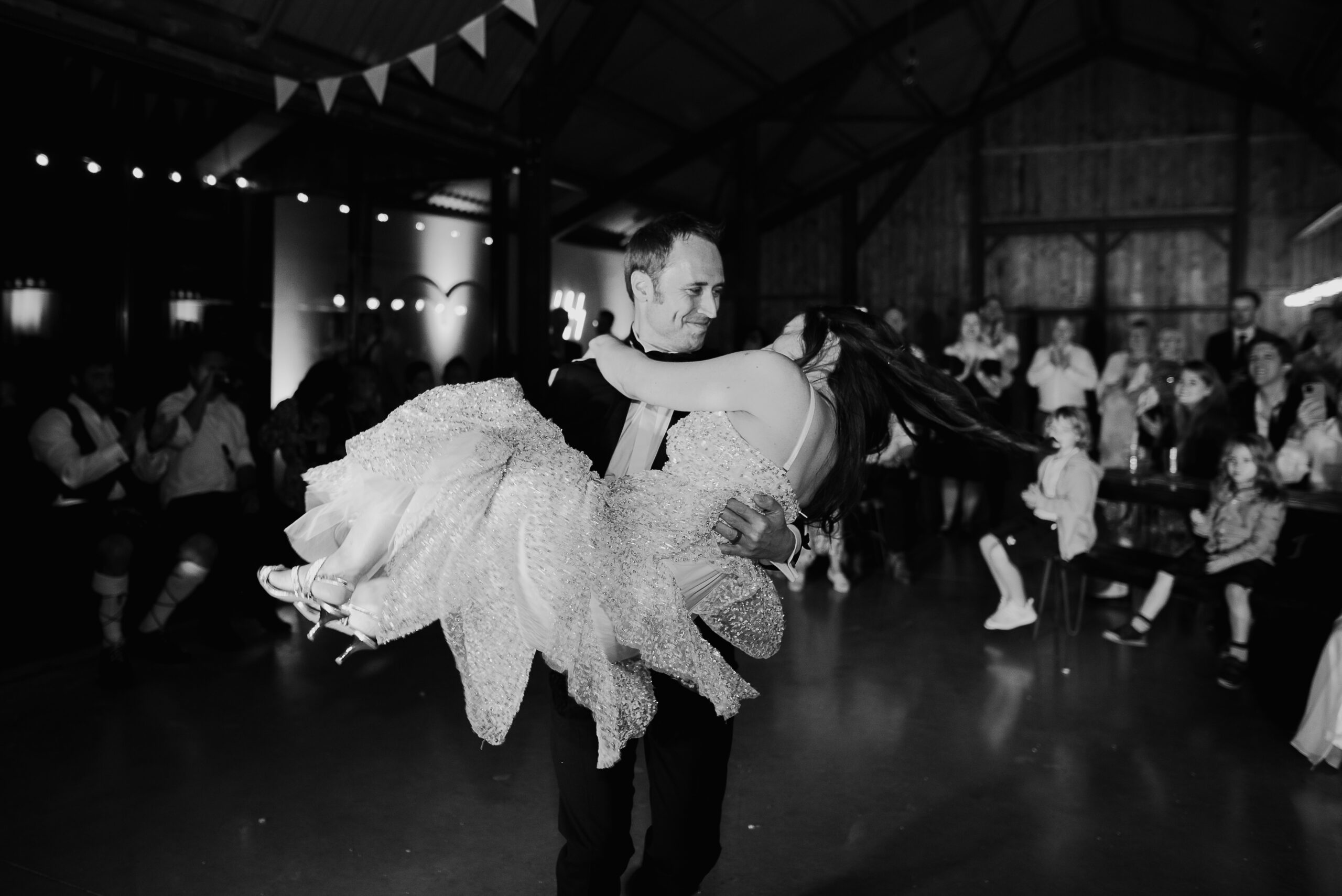 Soft, romantic wedding ceremony
Once the guests had emerged, brought themselves round and popped their gladrags on, it was time for Kate and Stu's super chill, super romantic wedding ceremony. Bunting draped across the ceiling as, preceded by two super cute flowerchildren and her bridesmen, Kate walked down the aisle with her best friend to meet Stu at the top. They got married in front of a rectangular frame entwined with a floral garland and with a billowing, gauzy material floating from it. As the frame was positioned in front of our reclaimed feature windows, this gave everything a delightful, soft feel, like they were curtains gently blowing in a spring breeze. It also echoed Kate's dress perfectly, which had the most beautiful, epic full train!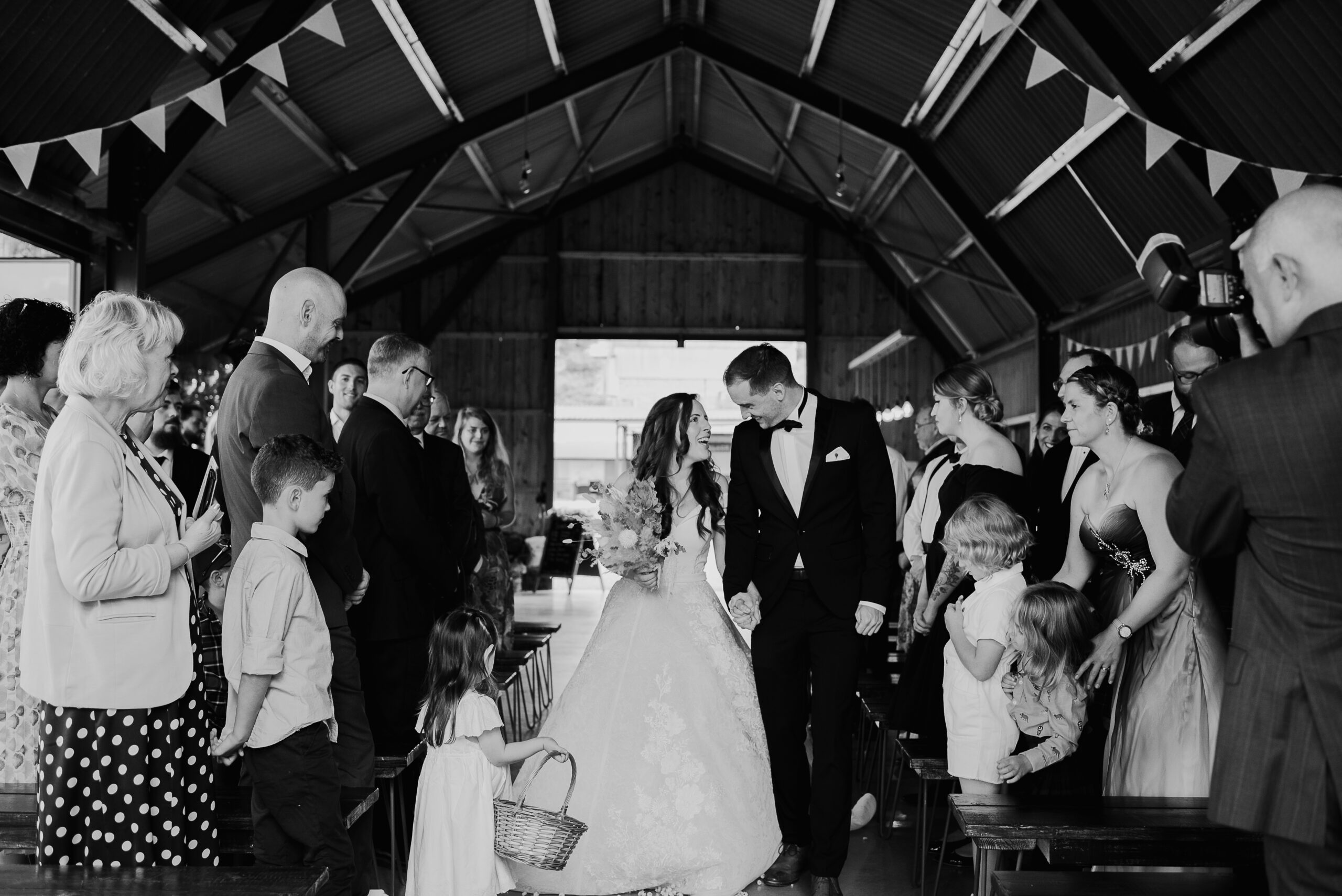 Bathtub beers and lawn games
After a divine confetti shot lined up outside The Giraffe Shed, Kate, Stu and their guests let loose for a couple of hours on the lawns. The bride and groom had provided countless options to occupy their guests' time, including our signature bathtub full of craft beers and lawn games. Their guests definitely took this fun, relaxed garden party vibe in their stride – we've never seen so many impromptu rugby matches at a wedding before! …and space hoppers and a bouncy castle But perhaps best of all: Kate and Stu had organised Space Hoppers and a bouncy castle. We're telling you, you've not seen joy until you see fully grown adults, suited and booted, flinging themselves across the grass with gay abandon, or really pushing off with power to see if they can go higher than their mate on a bouncy castle. This potent combo – of fun-loving guests, incredible laidback activities, and of course the late September sunshine – made for an epic, glee-filled drinks reception. During this time, we changed The Giraffe Shed over in preparation for the sit-down wedding breakfast.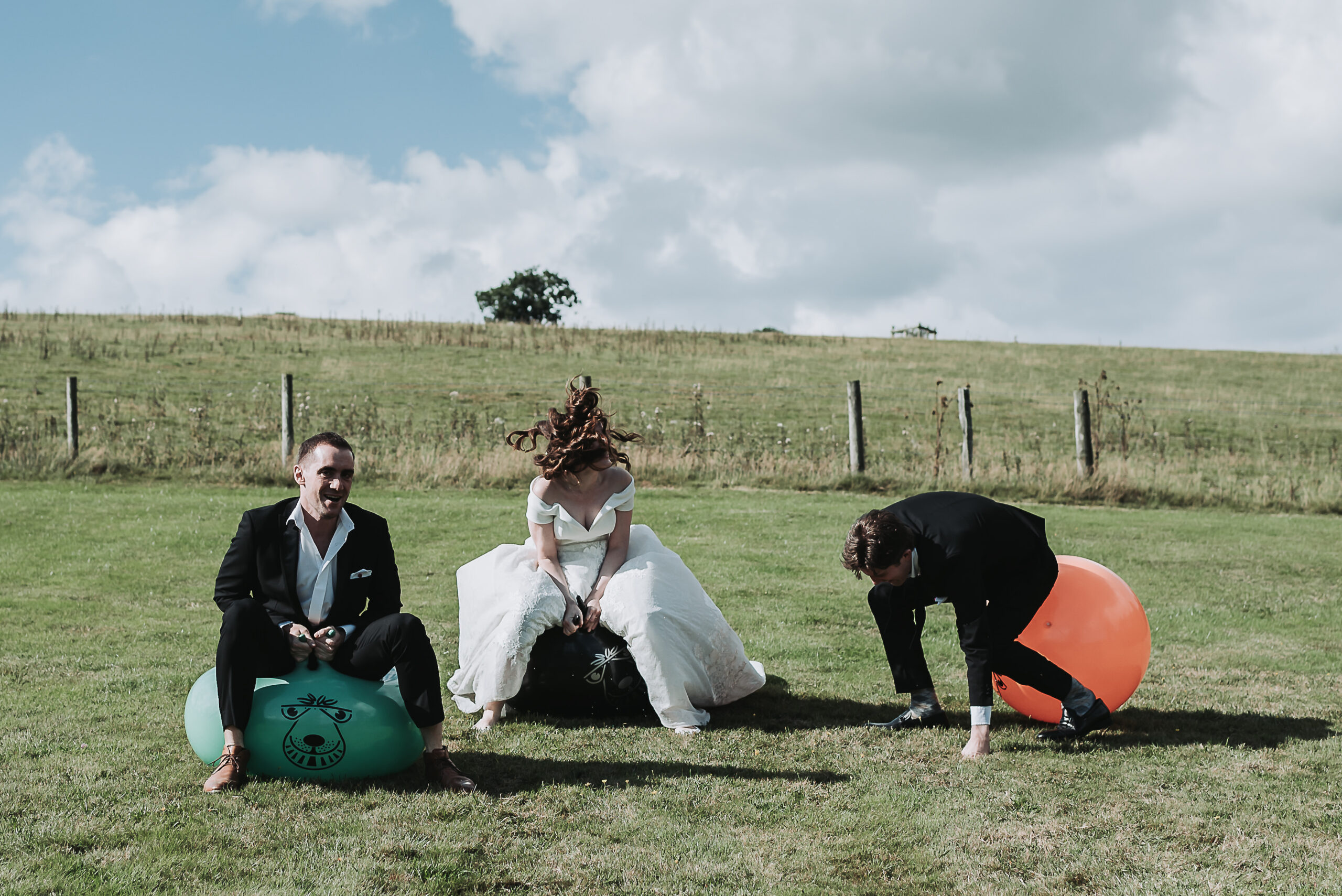 Laidback wedding reception
The tables were dressed simply but impactfully, with a linen-look table runner and cream taper candles in black metal candelabras. For the centrepiece, each table was set with a low stoneware vase filled with bountiful pink dried flowers and fluffy grasses. Guests found their seat at a table plan comprised of lovingly handwritten luggage tags (a nice nod to their guests, who'd travelled the world to be with them for their wedding day). Never ones to miss the opportunity for an activity, Kate and Stu's guest book featured advice pages from each of their guests (with space to doodle, too). One was placed at each seat as well as a pot of pens, so that guests could fill it in throughout the reception, for Kate and Stu to then put together and look back on.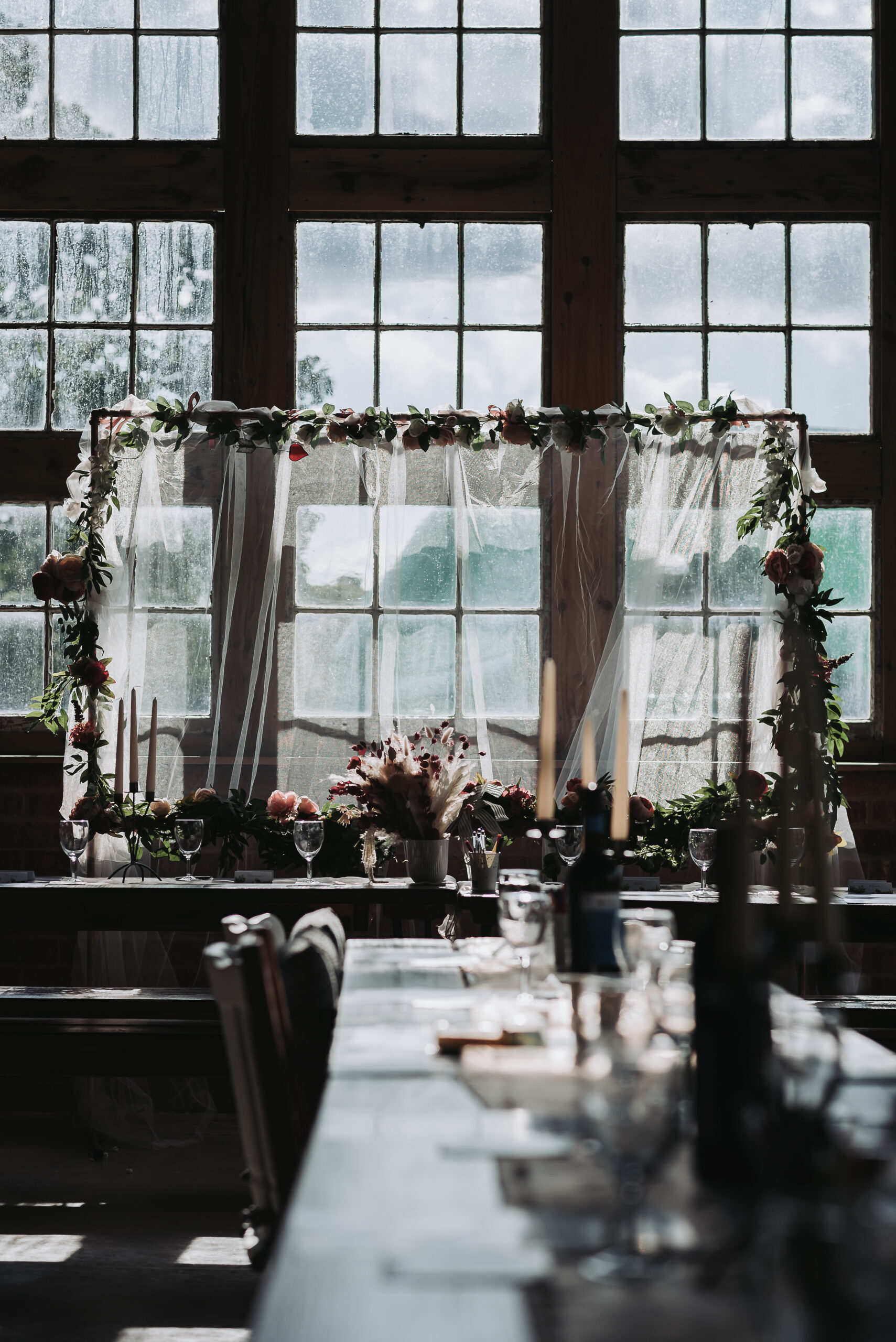 Meaningful, personalised details
In fact, Kate and Stu's wedding day was full of fun, meaningful ideas like this. For example, they brought an array of decorations with them, including a graphic advertising-style poster for the wedding itself! Billed as "The Thompsons Debut", it was described as a "once in a lifetime deal" and "critics are calling it the wedding of the century". And they weren't wrong! Another cute, personalised detail was Kate's cardigan. Perfect for a late summer evening when the sun goes in, the navy knit was embroidered with "Mrs Thompson", her married name, on the back.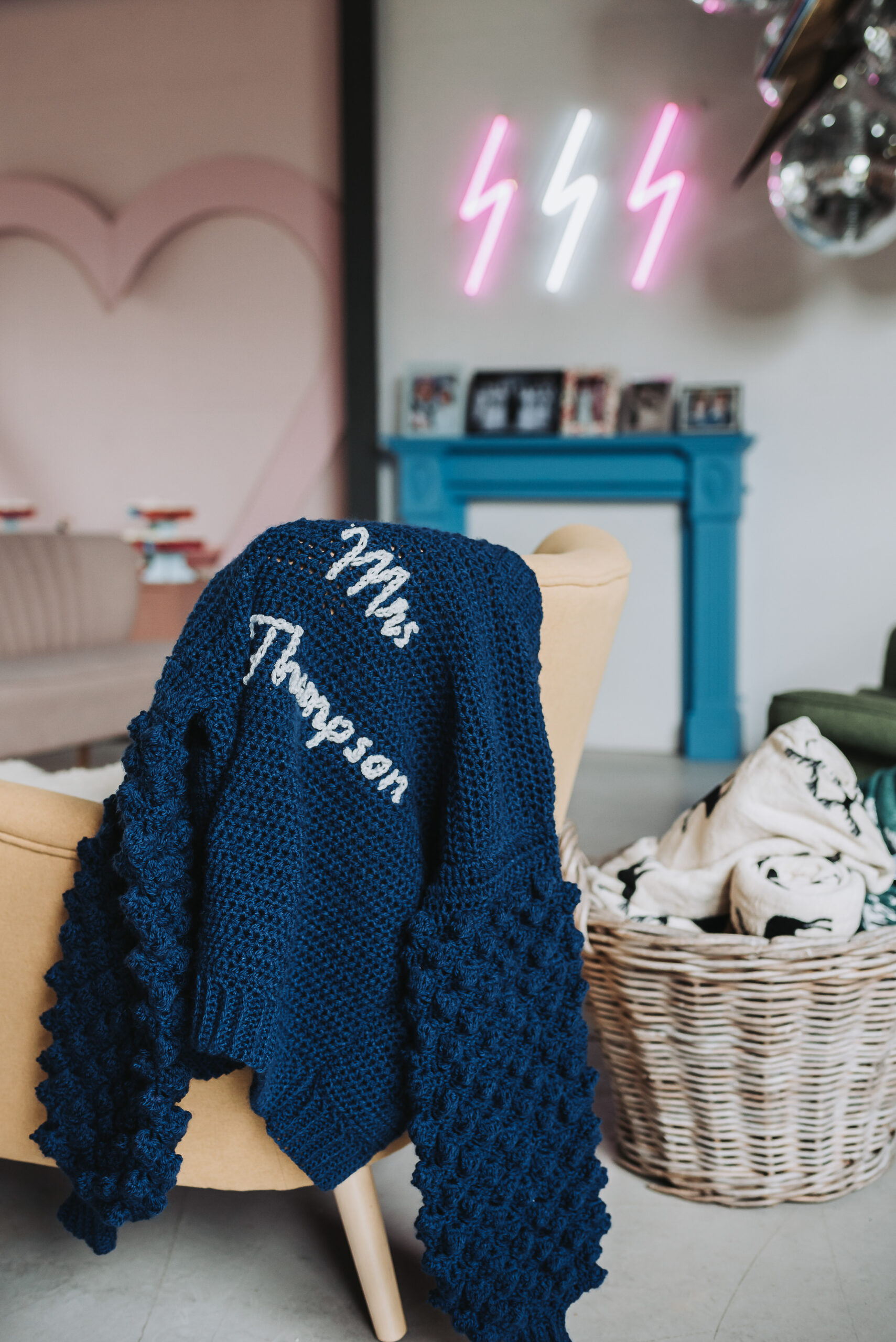 A legendary evening do
More fun in the sun led into an evening BBQ and that, in turn, led into an epic evening do. To the soundtrack of the Vintage Wedding DJ, the guests turned up the heat on the dancefloor, grooving along to everything from rock to funk and soul. Kate and Stu had also prepared a choreographed routine to surprise their guests with, and it wasn't amateur hour: Kate came prepared with an outfit change, nipping off to change into an embellished sequin ruffled dress which glitzed on the dancefloor as she bopped. Toasted marshmallows around the log fire provided much-needed dancefloor fuel. Then, the biggest surprise of them all came: Stu performing a word-perfect rendition of Tribute, by Tenacious D, with their guests singing back at them, was nothing short of legendary.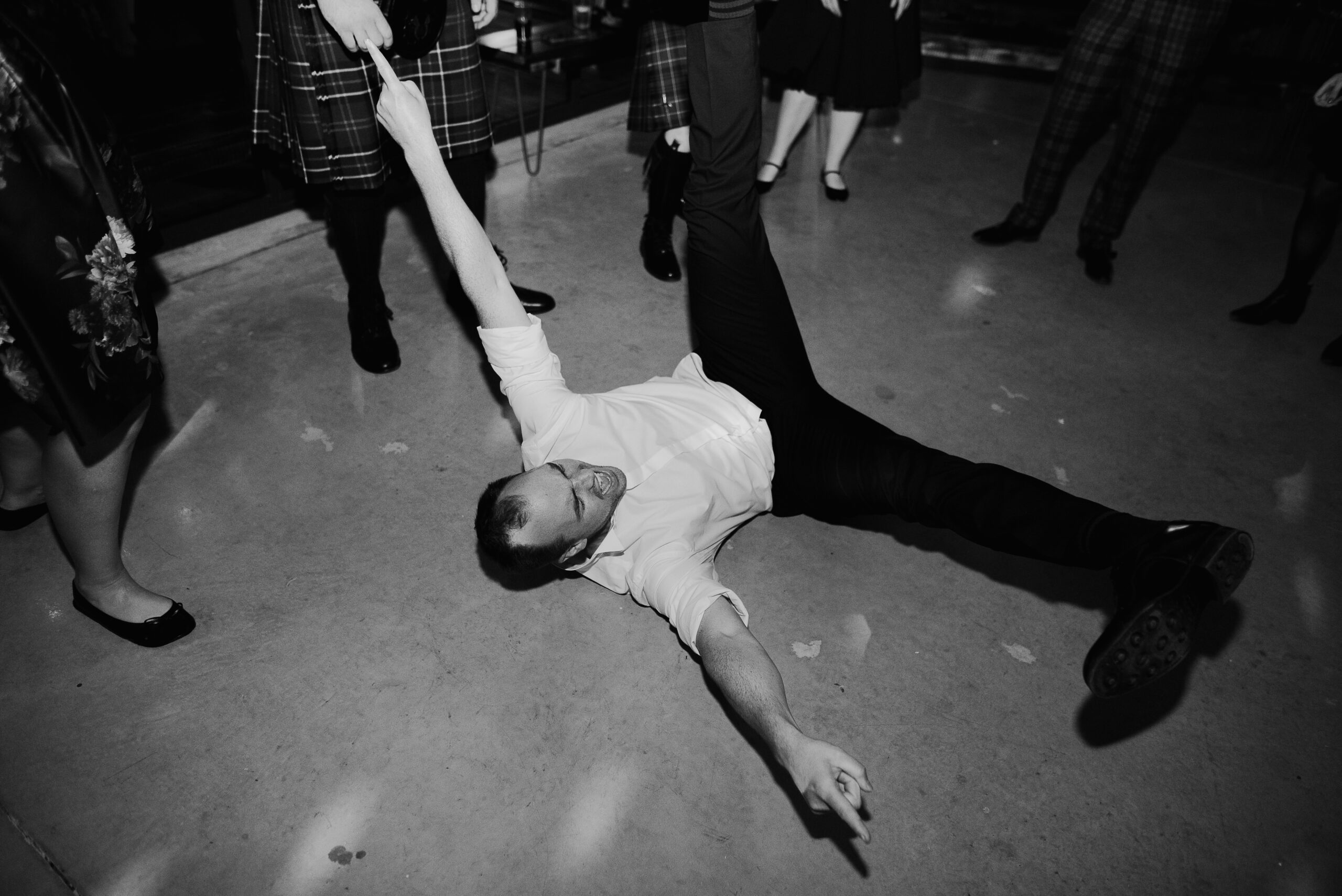 Alternative wedding venue in Wales
If like Kate and Stu you want a wedding day that's totally done your way and are looking for somewhere to host it – let us formally introduce ourselves. We're The Giraffe Shed, a purpose-built barn and events space in Tregynon, mid Wales. What is that purpose, you ask? Providing a unique barn wedding venue for all the couples who want to do things a bit differently. If this sounds like you, we'd love to chat – you can get in touch here to let us know your plans, and we'll get back to you ASAP. We can't wait to hear from you!