Bethan and Nick's Welsh festival wedding weekender: three days and a bathtub full of gin and crisps – The Giraffe Shed, Wales
Bethan and Nick's Welsh festival style wedding took place over a beautifully sunny summer's weekend. Inspired by their love of music and wanting a relaxed day with their nearest and dearest, they spent three glorious days celebrating with us, and loved every second (as did we!) "Everyone talks about how quick your wedding goes but because we had ours over the three days we didn't feel that!" Bethan says. "We loved that we could make this a whole weekend experience." Here's how it went down…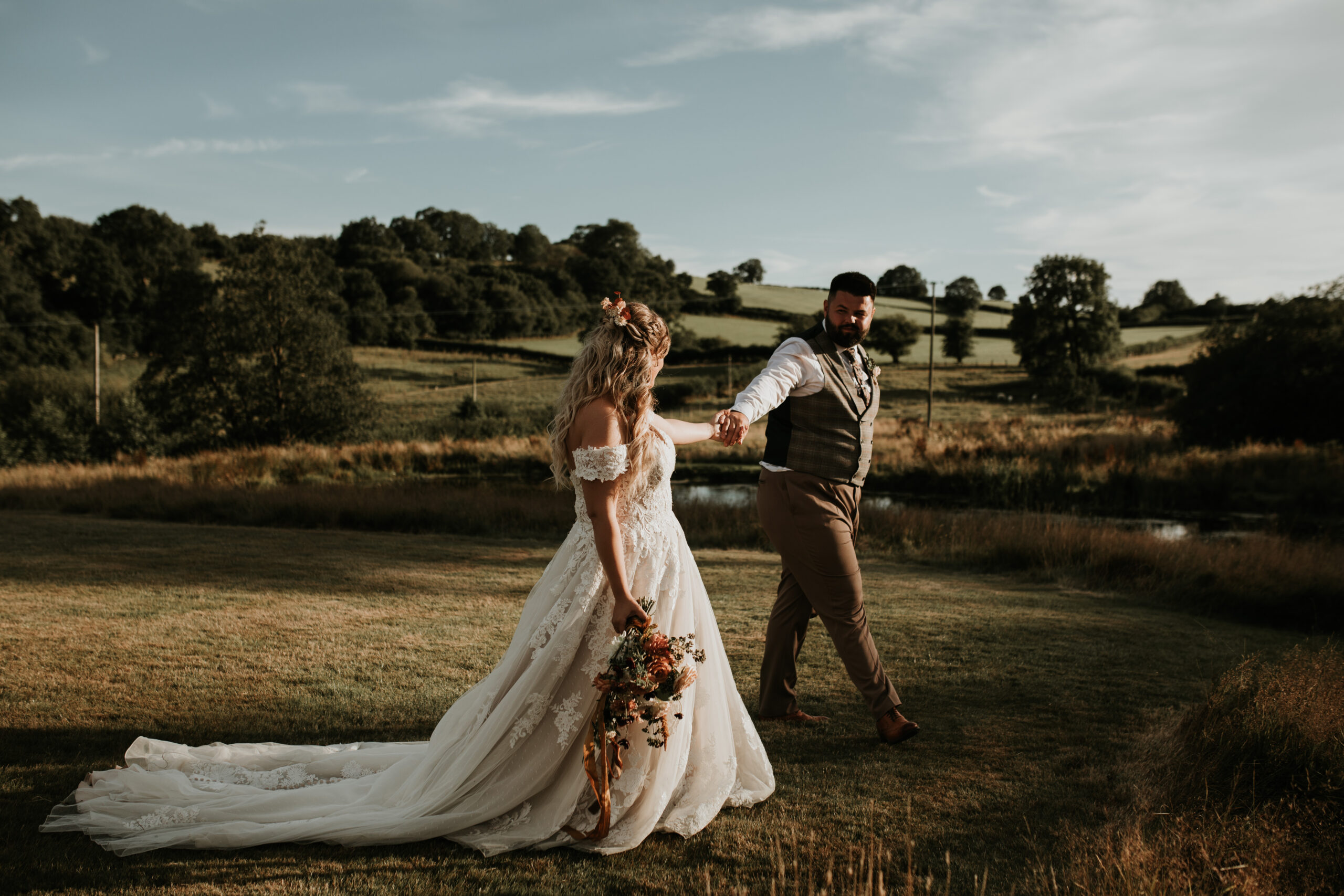 A super chilled wedding eve (and morning of)
To kick off their laidback festival style wedding weekend, Bethan and Nick came up on the Friday to get settled in. "We had organised everything before venturing up from South Wales so the setting up was as easy as it could be (especially with all of Hannah and Neilo's help!). After the fun of setting up in the day we were able to relax in the evening with our bridal party and groomsmen, who were all staying on site. We ordered pizzas and had some "quiet" drinks outside the Black Box before heading to our beds and the Shepherd Hut in prep for the day itself." Saturday morning soon came around, and it was time for Bethan, Nick and their best people to get ready. "I thought I would be a nervous wreck the morning of the wedding but getting ready was one of my favourite parts." she remembers. "Having the gorgeous space to prepare for the day while watching the guests arrive from afar gave me such an excited buzz." While Bethan and her bridesmaids got ready inside, Nick and his groomsmen got ready outside. "He loved "getting ready like a bunch of rugby players at the side of the field"!" Then as guests began to arrive, the groomsmen handed out personalised wristbands, as a fun festival wedding favour alternative.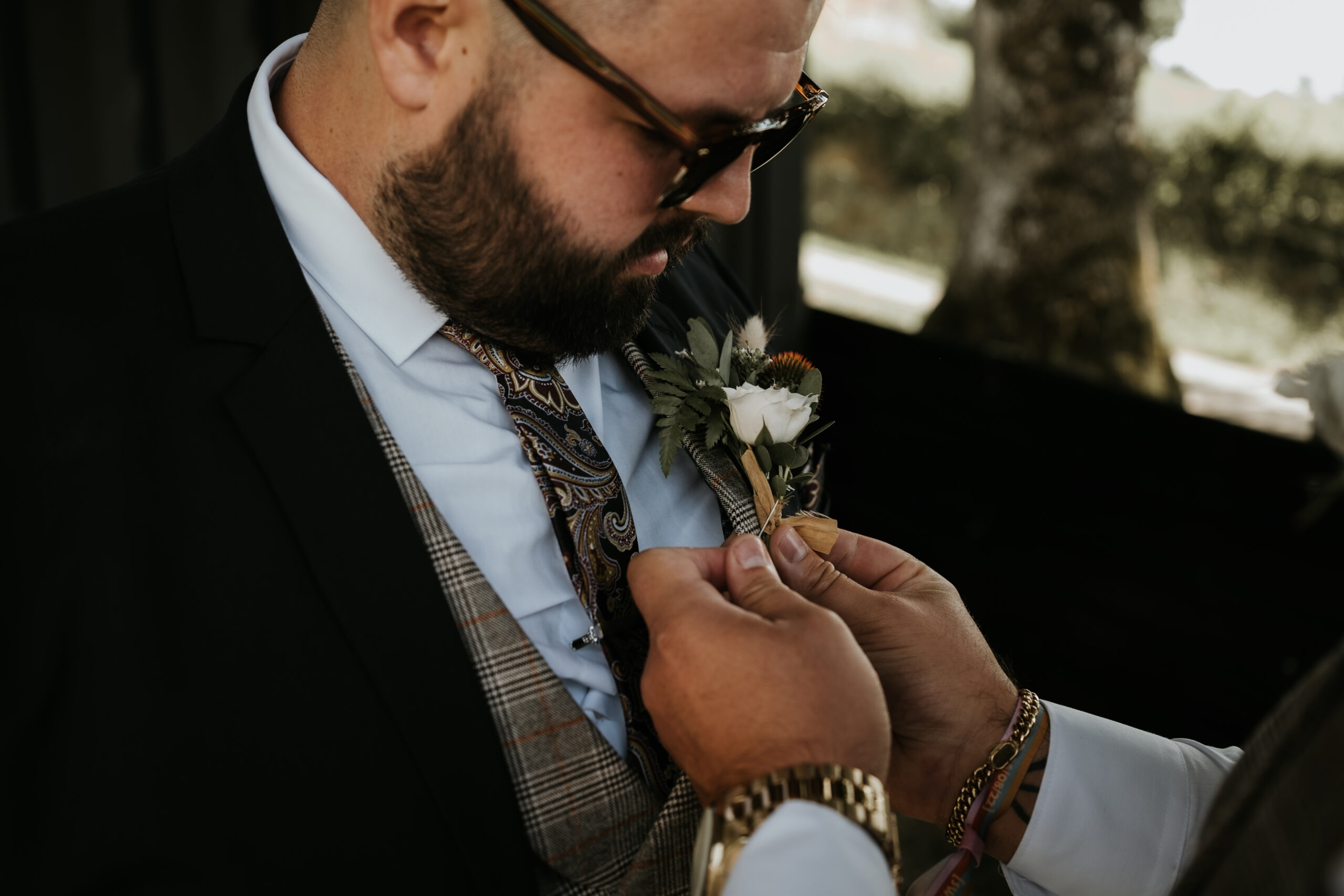 Warm autumnal colour palette
The styling for Bethan and Nick's festival style wedding was also relaxed, with no overt theme but a colour palette of beautiful late summer/early autumnal shades. Emma Cox Floristry focussed on these gorgeous orange, pink and red tones in her wild and wonderful arrangements, including bouquets, posies, buttonholes and a corsage. She also provided rustic blooms to go in the bottles that lined the aisle, which Bethan and Nick had lovingly sprayed bottles in orange and gold. And how could we forget that stunning flower arch? It was the perfect addition to the top of the aisle under the Shed's window, where Bethan and Nick said their vows with their super cute daughter Sali and Paddington Bear in tow. It doubled up during the meal as a beautiful backdrop for the sweetheart table, which Bethan, Nick and Sali sat at to have "a bit of "us time" away from the madness." Later on the arch also provided a very cool frame for the band's drummer!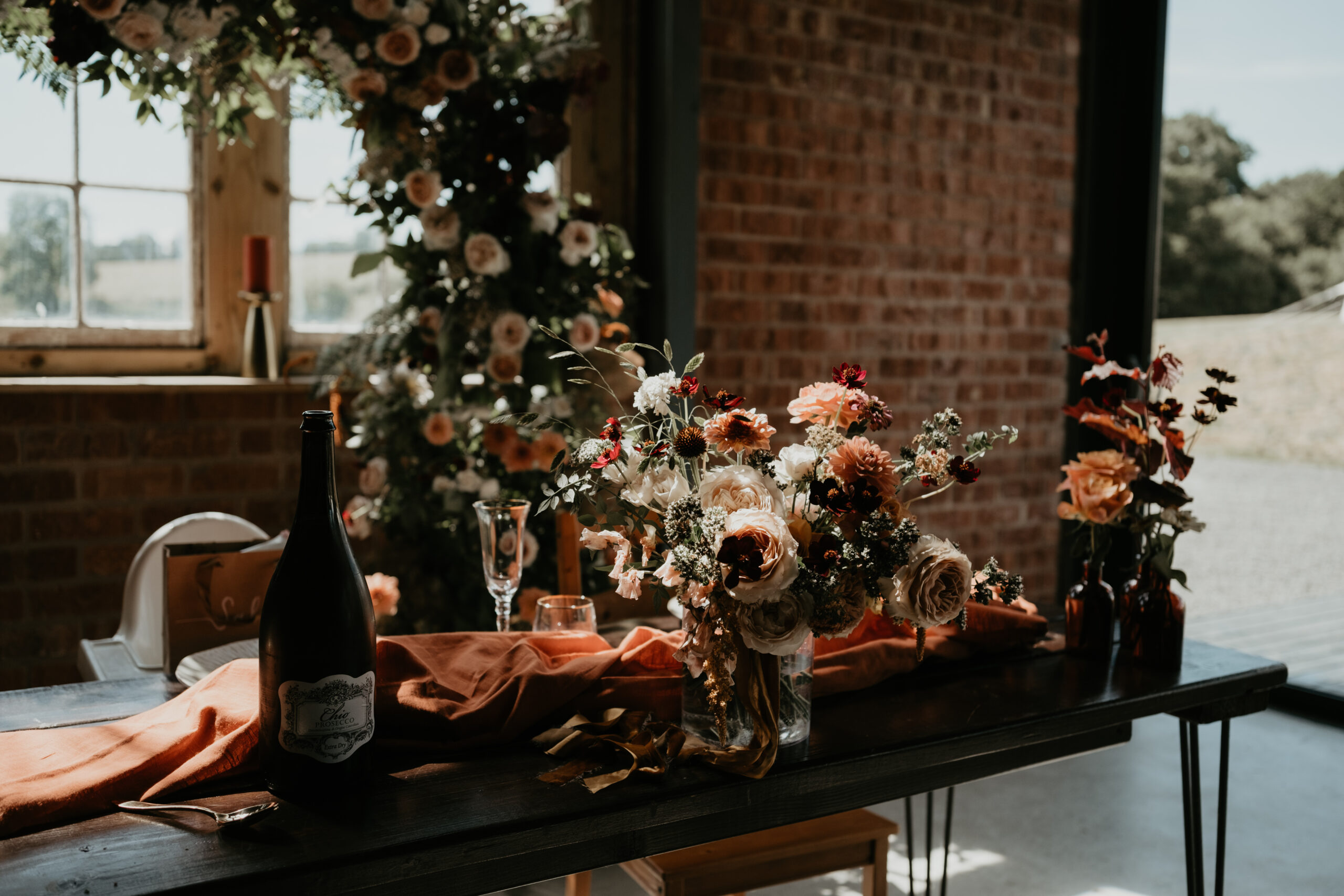 Not your average wedding food
The food was really important to Bethan and Nick, so they were so glad to meet Matt and Lou, the delectable duo behind Hardy's Catering. In Bethan's words: "They're the best and their food is INSANE! We had veggie Mexican street food during the day, served on sharing boards on each table for everyone to help themselves. The feast included nachos" (which they alluded to with their seating plan, which read "that's nacho seat…this is") "halloumi tacos, jackfruit tacos, Mexican rice and salsa. We had so many compliments on the food, especially from pleasantly surprised meat eaters!" For dessert they chose donuts, as well as a vintage ice cream van which came with personalised wafers. As a lot of their guests had travelled from afar, Bethan and Nick had set the evening portion of the day to commence at 5pm, so that guests could have as long a time as possible there; an extra bonus was that they could have ice cream on arrival, too. Then, in the evening, Hardy's made beef, halloumi, and vegan duck burgers, with "the best dirty fries I've ever tasted." (Bethan's words.) Who said wedding breakfasts have to be bland and dry? Certainly not us.
A bath full of gin and crisps
And how could we not mention Bethan and Nick's bathtubs filled with alcohol and crisps? A staple for any good wedding, if you ask us… "We had a bath filled with gins in a tin and beers, and a bath filled with packets of every kind of crisps you could imagine to keep everyone full and happy! Gin and Monster Munch.. what more could a girl want?!" "We wanted the "in between bits" to be relaxed and informal – after the ceremony everyone was in the sunshine on the grass enjoying the relaxed atmosphere. Drinks were flowing throughout the day from the Giraffe Shed bar and the Black Box – Nick was particularly taken by Neilo's margarita making skills!" (When we say we're there for it all – we're there for it all.)
Music full of meaning
Music full of meaning As well as gin, crisps and their loved ones, music was a big part of Bethan and Nick's day. "Nick is a massive music lover and music has become a big part of our lives and our relationship so it was important to have a nod to this." Bethan says. Their tables were named after songs that are special to them, and set their record player up in the Black Box for family and friends to rifle through their collection and choose the tunes to play next. As for the songs themselves – it was a brilliant, eclectic mix. "I walked down the aisle to Elbow's One Day Like This, and we walked back up to Praise You. The confetti throw was soundtracked by Primal Scream's Loaded, we entered the meal to Hot Chocolate's You Sexy Thing (definitely Nick's choice!) and had our first dance to Arctic Monkeys' "Baby, I'm Yours"." For the evening reception, they knew they wanted a live band. Nick had seen Soul Lotta Funk play at a gig years before and knew they'd be perfect for the wedding vibe they had in mind. We love the photos of the Shed dancefloor flooded in that late summer light from the floor-to-ceiling windows! "They were incredible! So professional, lovely and talented! We didn't stop dancing. My maid of honour Lauren duetting with them to smash "Proud Mary" was a particularly special part of our day!"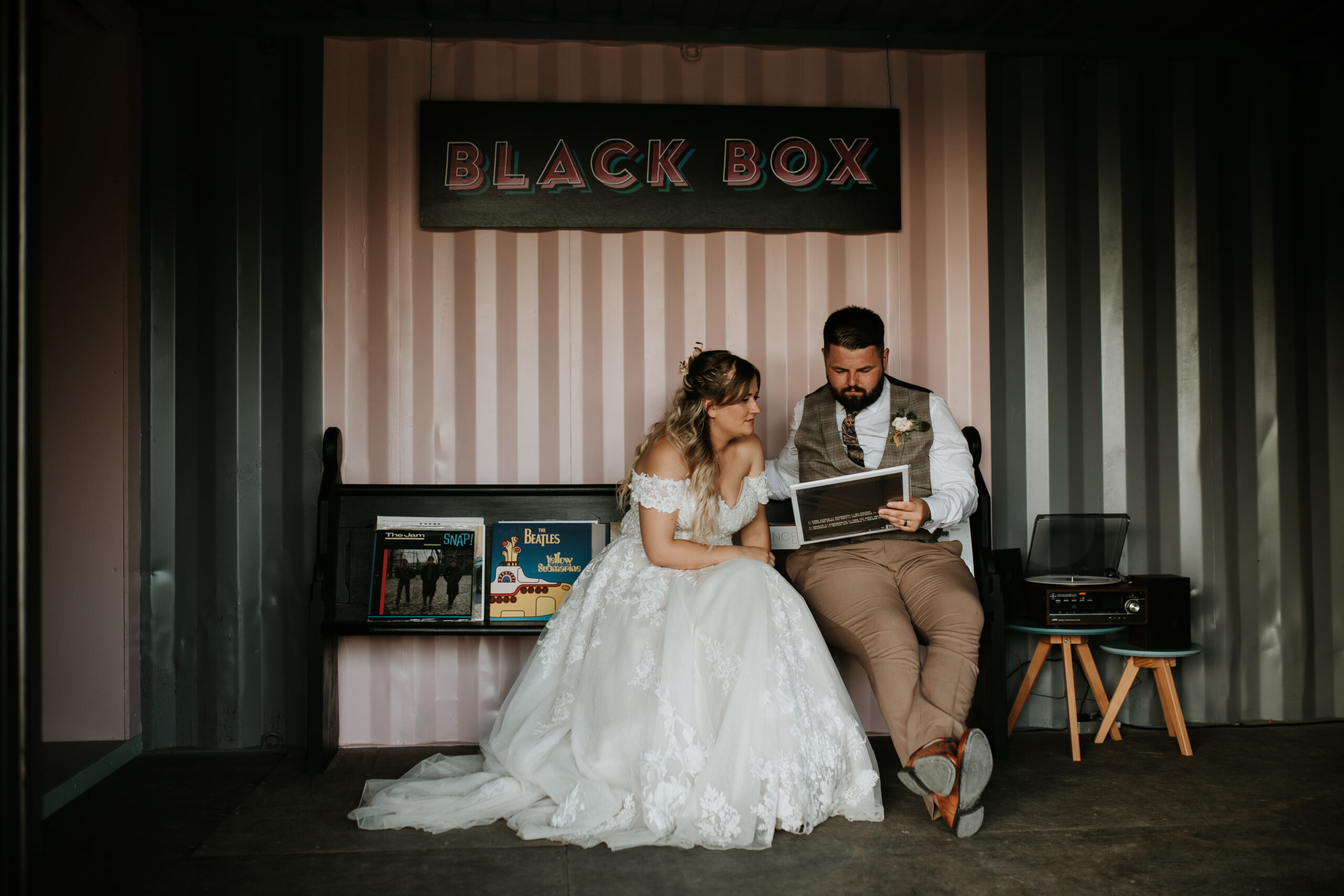 Perfect festival wedding venue in Wales
It's safe to say we adored hosting Bethan and Nick's wedding weekender. From start to finish it was so much fun: so full of love, and so chilled out! If you have big plans for your own wedding weekender and are looking for somewhere to host it, or perhaps you're looking for the perfect festival wedding venue in Wales, we'd love to hear from you – you can get in touch here. Alternatively, you can feast your eyes on the lovely words from Bethan and Nick that we'll finish off with… "The photographs are better than we could ever have wished for thanks to Francesca Hill's talent and to the beautiful setting. Part of the appeal of the Giraffe Shed was my vision of how the photographs would look from the fields outside, to the brickwork and statement window, to the perfect lighting in the shed, the black wall outside and the quirky pink wall by the Black Box. It was the first and only venue we viewed, and we knew it was the one! I don't think any words can write how incredible you are and how special you made our day! If we can do it again that'd be great?!"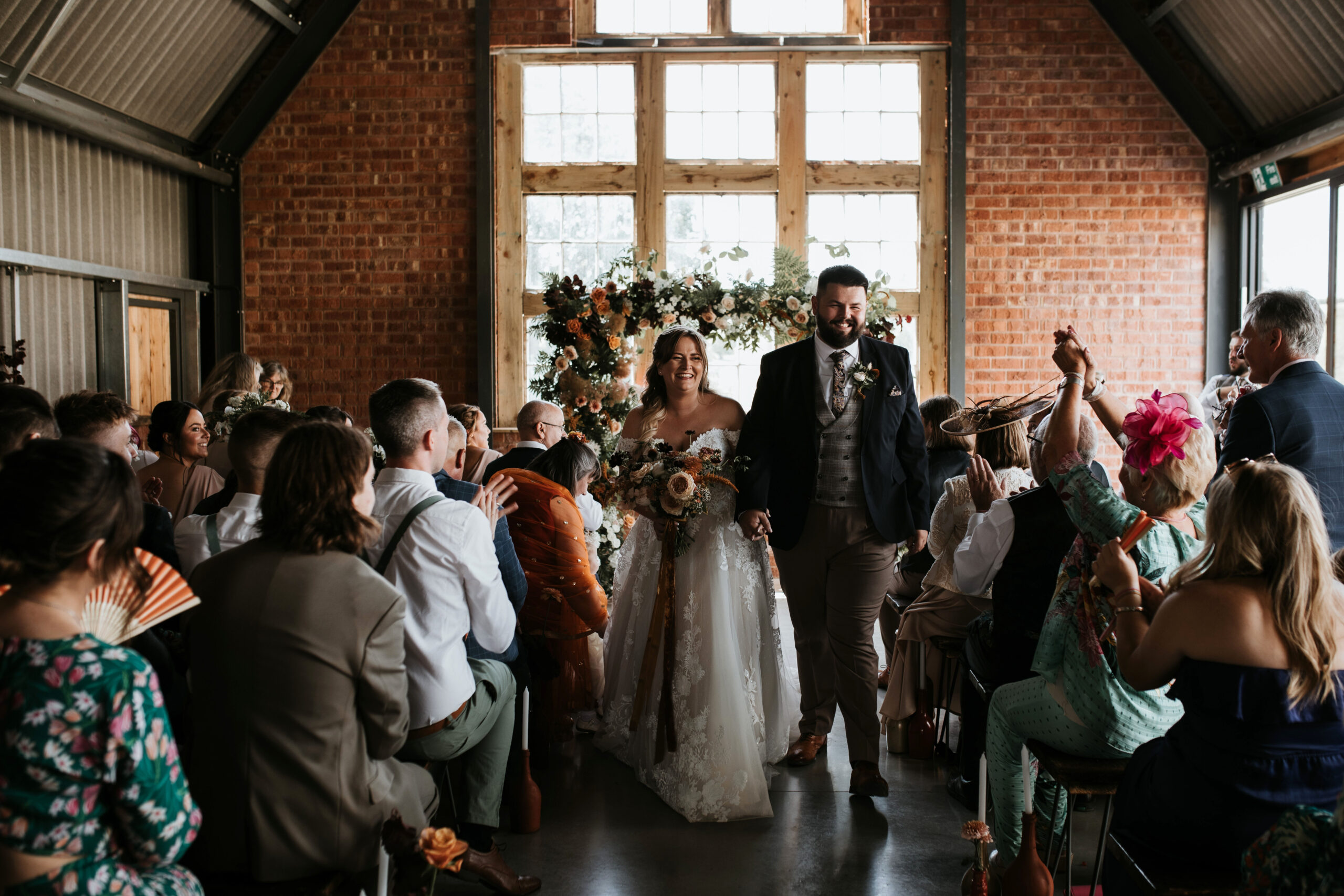 "We decided before getting to the end of their lane it was the one and we will never ever look back."
—Nick + Bethan